16 Days | 13-28 January, 2023
$AUD5852 per person, joining in Chiang Mai, concluding in Luang Prabang. Save $150 – book by 01 October!
"I invite you to join with me as we travel from the cultural centre of Chiang Mai, in Northern Thailand, across the Mekong into the beautiful country of Laos, the home for many minority people who still produce and wear colourful fabrics using generations' old techniques.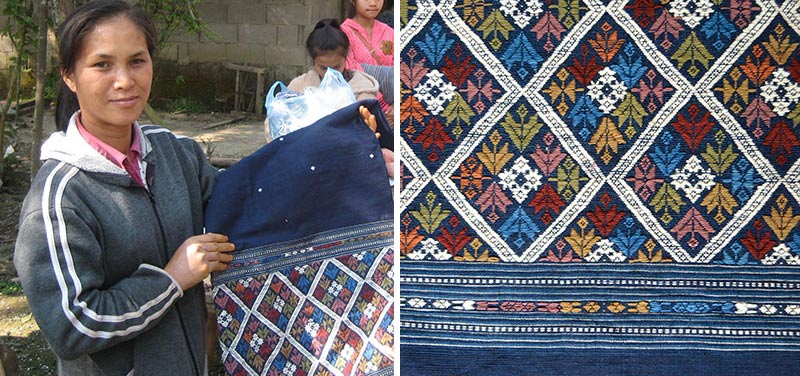 Craft skills are very strong and we will see textile skills such as embroidery, dyeing, weaving and fashion, as well as many other crafts including basketwork, and painting, through visits to practitioners and hands-on fun. Laos is also home to an abundance of wonderful Buddhist temples and monasteries.
The food is justifiably famous and the Lao are some of the most gentle and sincere people you are ever likely to meet. For over twenty years I've been escorting a series of textile focused travel programs to this region and find it to be a forgotten textile treasure.
On this program, I'll be revisiting one of my favourite itineraries that brings together the skills found in northern Thailand along with those of the lowland Lao, together with their respective minority peoples. We witness the strengths of handloom and tribal heritage found in costume and decoration.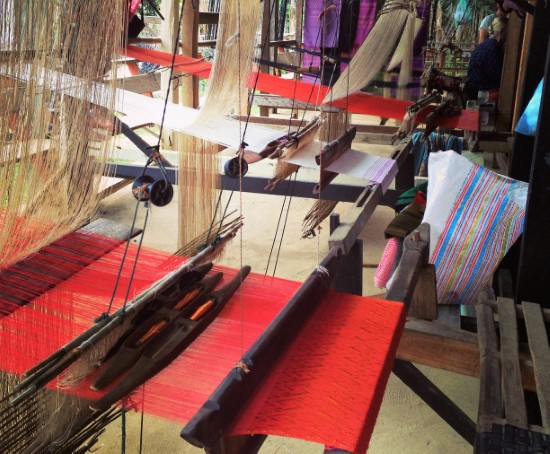 We meet local artisans as well as internationally acclaimed practitioners. Workshops provide hands-on experience, and of course galleries, shops and village markets provide opportunities for collectors." Valerie Kirk
Dates and Cost
16 days| January 13-28, 2023 | $AUD5852 per person twin share.
Joining in Chiang Mai, concluding in Luang Prabang. Minimum 10 people, maximum 16 people.
Highlights
Visit the World Heritage sites found at Chiang Mai and Luang Prabang.
Witness Buddhist morning ceremonies.
Meet artisans and gallery owners.
See traditional village textiles as well as exquisite Royal Court inspired silks.
Travel along the famous Mekong River.
Enjoy comfortable hotels and guest houses.
Participate in our workshops.
Wander about local villages and markets.
Indulge in fabulous fresh meals.
Itinerary
Day 1-3: 13 January to 15 January – Chiang Mai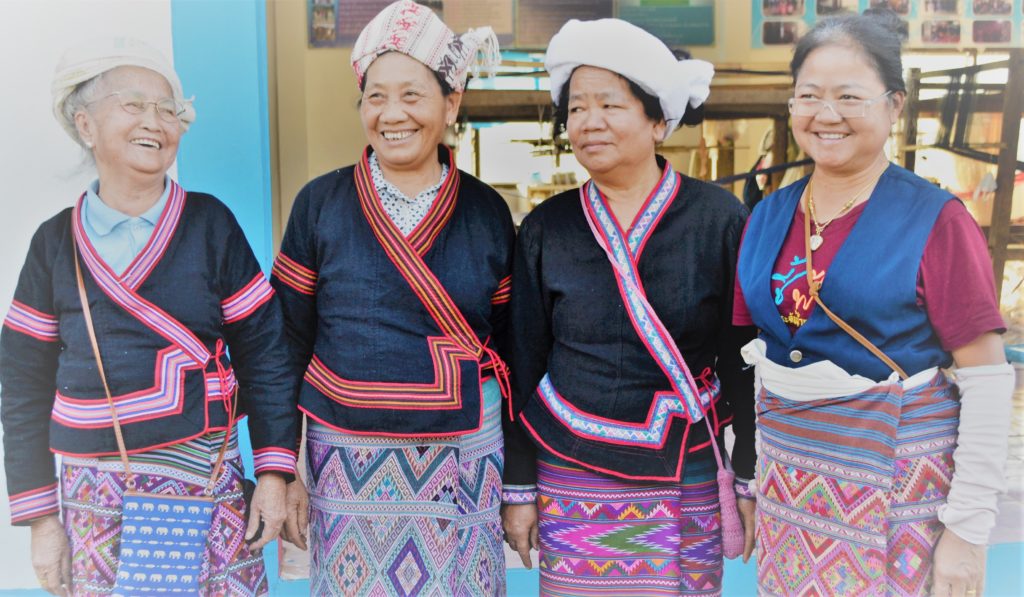 We arrive in the northern cultural capital of Chiang Mai. Apart from seeing a number of the iconic and ancient sites of this delightful city, we spend time visiting craft production workshops, along with visits to private textile galleries and local markets.
Day 4: 16 January – Chiang Mai to the Golden Triangle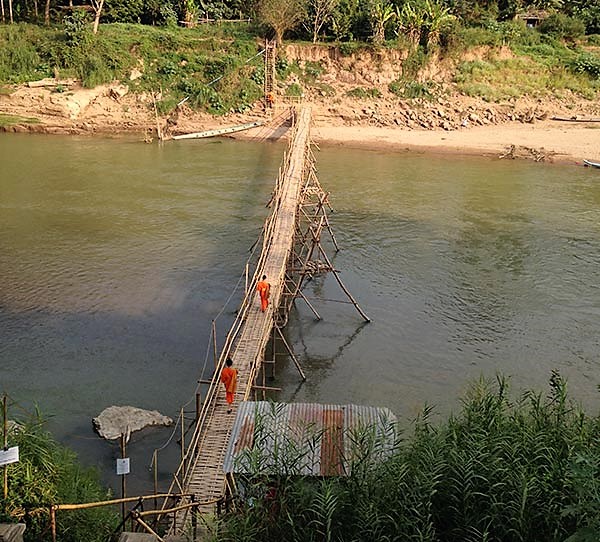 Leaving Chiang Mai, we drive north towards the Mekong River and the border of Thailand, Laos, and Myanmar. Stop enroute at hot springs, the impressive Wat Rong Khun (white temple) the Opium Museum, plus a H'mong village to see their fabrics.
Day 5 – 6: 17 January to 18 January – Golden Triangle to Luang Namtha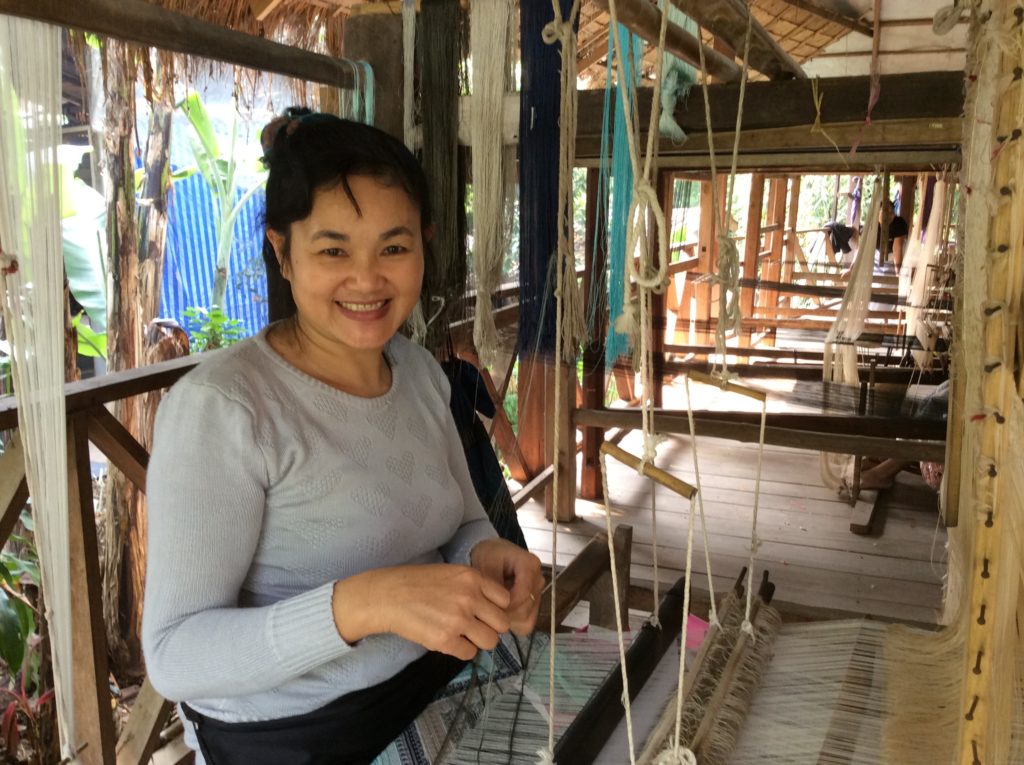 Cross the Mekong and passing through less populated regions but home to many minority and hill tribe groups, of which some we visit, we arrive at Luang Nam Tha.
Here we visit excellent weavers of silk and cotton, who use natural dyes and we participate in our first hands-on workshop. Later we visit a very different location, where women also display excellent cotton/silk fabrics.
Tonight, we participate in a traditional welcoming and blessing at the village, followed by a great traditional meal.
Day 7-9: 19 January to 21 January –  Luang Namtha to Muang Ngoi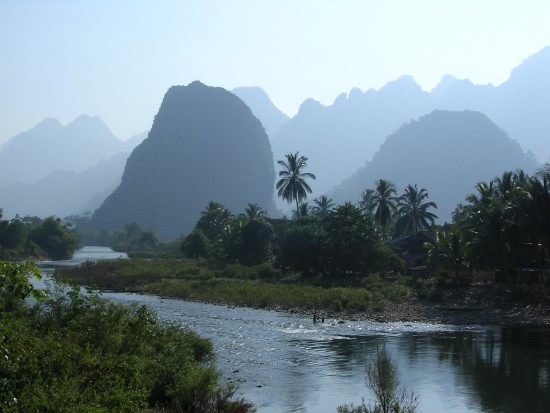 Over the next three days we travel by road and boat along a beautiful and quiet river through remote regions of the North, passing through rugged but scenic country and home to scores of minority groups, all of whom still practice their varied and traditional textile traditions.
This is an experience of comfortable off-track travelling. Just one of many highlights.
Day 10: 22 January – Muang Ngoi to Nong Khiau
One more great day is assured. Travel by boat for a short distance and disembark for an easy 90-minute (optional) walk through beautiful rain forest and karst scenery to a small minority weaving village. Rejoin our boat and stop for a riverside picnic lunch and arrive at our destination for the night.
Day 11: 23 January – Nong Khiau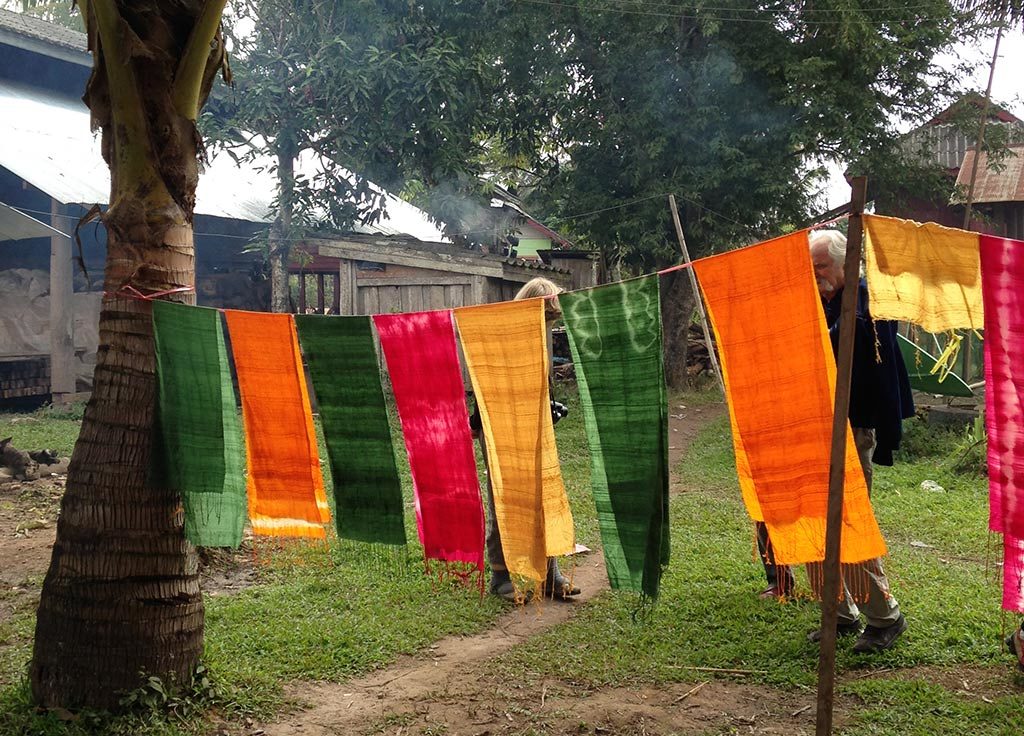 Today we participate in our second hands-on workshop using natural dyes on cotton and silk at a small village, where we also have lunch and plenty of time to explore this attractive location.

Day 12-15: 24 January to 27 January – Nong Khiau to Luang Prabang
On the way to Luang Prabang, Lao's cultural and religious capital we see bark paper making as well as some weaving and natural dyes. In Luang Prabang we have a full program, visiting studios, seeing a variety of craft production, meeting significant personalities, and taking in the excellent cultural heritage. The town is very much a contrast to our journey's experiences, and you can partake of shopping, cafes, spas as well as plenty of artistic stimulation.
Day 16: 28 January – Depart for home
All good things do end. Today we conclude our program with a transfer to Luang Prabang airport. From here you can return home, via Vientiane, or continue with any additional travel you would like arranged for you, such as to the surrounding countries.
Intentionally Different trusts this program suits your interest. Please do not hesitate to ask any questions.
The trip price includes:
Accommodation for 15 nights on a twin-share basis in 3-4 star hotels and lodge.
A single room can be requested for the hotel nights at an additional fee of $841.
Prices are in Australian dollars.
All breakfasts, most lunches and dinners.
Travel by private, comfortable air-con vehicle, and safe river boat travel.
Comprehensive touring program including sightseeing to iconic attractions.
Visits to many textile workshops, galleries, weaving centres, markets and villages.
Services of Tour Escort and Guest Lecturer, Valerie Kirk.
Services of well-qualified English speaking local guides.
Entrance fees to museums, galleries, and attractions included and mentioned in the itinerary. Additional visits and visit to other attractions are at traveller's expense
Comprehensive information kits.
Items not included are:
International airfares, airport and government taxes, visa fees; travel insurance; health costs; personal expenditure, communication expenses and shopping. Single rooms available at a reduced supplement.
What We Provide
Accommodation
Includes personally selected guesthouses and hotels. Our selection criteria include central location, charm, cleanliness, cultural integrity, uniqueness, and standard of service. All rooms have private western-style bathrooms and comfortable beds. Some have pools while others have pleasant gardens. Where choice is limited we select the most appropriate hotels for our guests.
Meals
Dining on our programs are an enjoyable experience as we explore regional delicacies and patronise some of the best restaurants and local cafes. We don't include all meals, as we prefer our guests to have as wide a choice as possible.
Road Travel
We use comfortable air-con vehicles and endevour to provide more seats than guests. Road conditions vary and some are in excellent conditions while others may be similiar to those found in remote regions of Australia.
International Air Travel
Thai Airways International is the simplest airline to use for the flights required. There are other, possibly slightly cheaper but more complicated options. We can assist with your flights at attractive prices. Stopovers enroute are possible. So too are upgrades to Business Class. Call us to discuss options.
Our Style
Valerie's trips excel when it comes to personal attention and relevant information. This includes information on where to dine, where to purchase textiles and other products, explanations on ethnic minorities and their textile practice along with answers to the myriad of other questions our guests pose.
Apart from good and relevant information, and excellent hands-on workshops, we include attractive accommodation, good sightseeing opportunities, plenty of 'getting-to-meet-the-locals' encounters and of course, great dining opportunities from exquisite restaurants to quaint local cafes. We don't hold your hand all the way so there are 'free time' periods to allow you to rest, explore on your own, or simply visit a café for an iced coffee.
Past guests have found our 'style' very much to their liking and we trust you will also.
Should you join this program?
Firstly, if you enjoy textiles you should join. However, as there is much more included in the program, others with an interest in Asian crafts, history and culture would also enjoy this tour. There is opportunity for short to medium walks throughout, so a reasonable level of fitness is an advantage. While this is not an 'outdoor/adventure' trip, a 'sense of adventure' is required for the trip. As this is a Study Tour with comprehensive notes and information provided, some guests may receive a tax concession. Check with your financial advisor.
Additional Travel
If you would like to travel on to other regions of Indochina such as Vietnam or Cambodia, please let us know, so we can develop an individual travel program for you. We have designed exciting itineraries for our clients throughout the region for many years.
Reservations
Email to: robert@intenttravel.com.au to send an inquiry. Or, click here and download our Reservation Form.
To secure your place, please email your intention to join Valerie in Laos. You will then receive a reservation form to complete. Your option is held for seven days secured by receipt of a non-refundable deposit of $500 per person. Deposit is refunded if minimum numbers are not reached or Covid stops our departure (up to 30 days before departure).
Payment can be made by direct bank transfer, credit card, or even redemming AMEX points.
'The Paperwork'
Your deposit will be acknowledged. We keep you informed as to the status of bookings and advise you when minimum numbers are reached. Then, we send you a confirmation kit and invoice. Final payment is due 60-days prior departure When our group is complete and after final payment, air tickets and travel documents will be sent out. Then it is only a short time before your wonderful textile experience begins!
Your expert tour host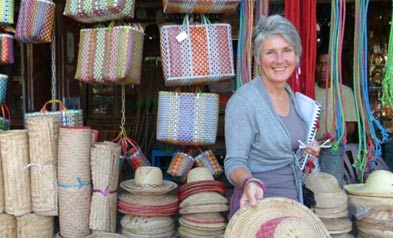 Valerie Kirk, Tapestry Weaver, Senior Lecturer and Head of Textiles, Australian National University will accompany this tour as Guest Lecturer. Her medium is woven tapestry and she is represented in many collections in Australia and overseas. Valerie is recognised internationally for her work as an educator and is devoted to encouraging an appreciation and understanding of textiles through her knowledge, along with direct contact with practitioners. Valerie has a wealth of information and is an accomplished tour manager, with over 20 years of accompanying textile focused tours. You will be in capable and informed hands.