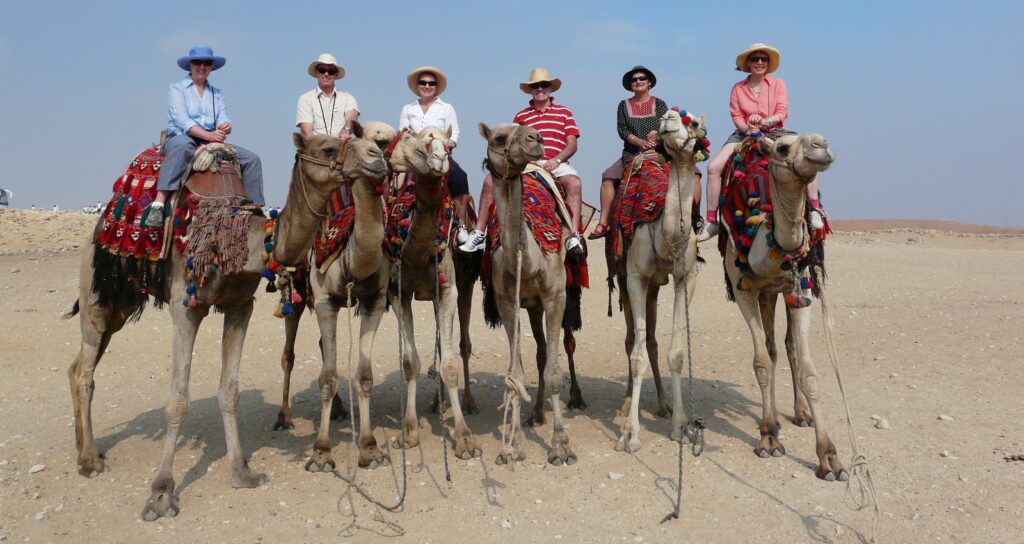 16 Days | 15 – 30 March, 2022
$AUD9983/$US6984 per person, departing Cairo
Our second journey along the Nile Valley in Egypt focuses on millennia of textile expertise, which we experience in Edwardian style . Utilising attractive accommodation, dahabiya boats developed by the British to cruise the Nile in Style, and wonderful meals, guests not only experience the diversity of excellent textiles and crafts, but do so in a way reminiscent of past times.
We include Alexandria for its unique character and attractions. We travel by privately chartered dahabiya's so we can call in at places large river boats by-pass and to have greater flexibility within our itinerary. And, of course, Nancy is a foremost authority on Egyptian textiles with a myriad of 'connections' within Egypt.
Tour is hosted with Textile Expert Nancy Hoskins and assisted by Christine Pearson, a Director of Intentionally Different Travel as Tour Concierge.
The program
Nancy explains that "Egypt's textile history spans thousands of years. Rare Pharaonic, Coptic, and Islamic fabrics in linen, wool, silk and cotton, that were preserved on the tombs of kings, queens and nobles and in humble sandy burial grounds, are now displayed in museum collections along with the amazing art work of Egypt.
"Our small group travels along the Nile Valley from Alexandria to Abu Simbel as our textile theme weaves together fabric from 5000 B.C. to contemporary cloth created by craftsmen and women, cottage industries, and commercial enterprises that export Egyptian cotton worldwide"
In Cairo we have enough time to explore many important sights in the heart of the medieval city. We see the old city gates, visit Ottoman homes and there's time to browse the celebrated Khan-el-Khalili bazaar. A 'must' are the fine textile collections in the Coptic, Egyptian, Islamic, and Textile museums.
At Haraniya, we make a special visit to a weaving centre established by Ramses Wissa Wassef, in the 1950's, where local villagers still learn how to create magnificent tapestries. Wissa Wassef was an architect and Professor of Fine Art at Cairo University and he is considered by many to be the 'father' of Cairo's modern tapestry industry.
We then travel by overnight sleeper train to Luxor and board our five-star Edwardian era dahabiya for the next five days to Aswan. In Luxor we see all the sights including the superb Luxor Museum and the Valley of the Kings. On cruise we visit the temples at Edfu and Komombo and in Aswan we make a special visit to the Nubian Museum. There is also time for an optional side trip to see the great temples at Abu Simbel.
We also have the opportunity to meet local Nubian women in their home, where they make traditional caps and baskets.
Our final visit is to Alexandria, an important metropolis since antiquity founded by Alexander the Great. It is a very pleasant coastal city reflecting on the Edwardian Age with excellent museums and an outstanding new library that has already achieved worldwide acclaim.
Then return to Cairo, and home.
Dates and costs
16 days/15 nights | 15 – 30 March, 2022
$AUD9983/$US6984 per person twin share, joining in Cairo
*Single supplement: Hotel only = $AU1985 or $US1290. Final price may change due to currency fluctuation.
Itinerary
Tuesday, 15 March – Day 1: Cairo
Arriving into Cairo you will be met and transferred to our hotel. This afternoon we begin with the first of many highlights – viewing the Pyramids and Sphinx. Welcome get-together and briefing. (L)
Wed, 16 Mar – Day 2 to Day 4, Fri, 18 Mar: Cairo Explored in Depth
Over the next days we intersperse ancient sites – mosques, pyramids, and tombs with museums, the fascinating Old Quarter, weaving centres and more.
Our program includes:
The ruins of Memphis and nearby Sakkara and the Step Pyramid, Heb Sed court and some of the magnificent Old Kingdom tombs.
We inspect he Byzantine churches of 'Old Cairo' and the Coptic Museum, with its fine collection of textiles. Then we visit the spectacular Mosque of Ibn Tulun, and two historic Ottoman houses, now the Gayer-Anderson Museum. A visit to the Egyptian Museum or the Grand Egyptian Museum is on our list depending on the availability.
Also in 'Old Cairo' we visit the complex of Sultan Hassan. Other visits include Bab Zuweila, Wikalat al Ghuri and Al Azhar Mosque. Then, after browsing the Khan el Khalili bazaar we can have dinner at a local cafe.
We return to the medieval city to visit Bab al Futah and walk to the Siheimi House, a historic 16th century Ottoman home and onto the fabulous Textile Museum where we receive a personal visit.
A special highlight is a visit to the Wissa Wassef weaving centre and dinner at Al Azhar Park.
We depart Cairo on the evening deluxe sleeper train (with simple dinner) to Luxor. (B, 1D)
Saturday, 19 Mar – Day 5: Luxor
Arrive Luxor and board our chartered 10 cabin comfortable dahabiya. We visit Karnak Temple and the superb Luxor Museum, with an afternoon visit to the bazaar. (BLD)
Sunday, 20 Mar – Day 6: Sail the Nile by Dahabiya Luxor to Esna
Commence sailing to the celebrated Valley of the Kings, the splendid Hatshepsut Temple and the Colossi of Memnon. Cruise towards Edfu.
All meals are served on board and there is plenty of time to relax. (BLD)
Monday, 21 Mar – Day 7: Nile by Dahabiya – Esna – Nekheb
Nekheb is the home of the Vulture Goddess who protected the Pharaoh. Find Nubian gods, cemetery, and Egypt's oldest 'brewery'. (BLD)
Tue, 22 Mar – Day 8: Nile by Dahabiya – Nekheb to Edfu
Edfu hosts the magnificant Temple of Horus, dating back to 3000BCE. (BLD)
Wed, 23 Mar – Day 9: Nile by Dahabiya – Edfo to Jebel el Silsila
Enroute we visit the Stelae of Shoshenq 1, the Chamber of Horemhed, and ancient quarries. This section of the Nile was particularly worshipped. (BLD)
Thursday, 24 Mar – Day 10: Nile by Dahabiya – Jebel el Silsila – Aswan
We visit the temple of Sobek and Komombo. Then continue to Aswan arriving this evening. (BD).
Friday, 25 Mar – Day 11: Aswan
Abu Simbel Option: The great temples relocated following the dam construction can be visited this morning, returning by lunch. After lunch visit the Nubian Museum and Philae Temple (Isis temple). (B)
Sat, 26 Mar – Day 12 to Day 15, Tue, 29 Mar: Alexandria
Morning flight to Cairo and continue by road to Alexandria. Over the next four days we visit the excellent Alexandria Museum and the stunning new library, the Greco-Roman Museum, Villa of the Birds, Jewelry Museuam, Catacombs, Qaitbay and more. Our hotel, located on the Corniche is perfect to join the locals at a coffee shop for a mint tea or coffee and perhaps a shisha and generally getting a 'feel' for this popular seaside resort city during the Edwardian years. Return to Cairo. Explore Sharia Khayamiya – the tentmakers bazaar, where local artisans produce superb quilts and other items. Farwell dinner. (B, 1D)
Wednesday, 30 Mar – Day 16: Depart Cairo
Transfer to Cairo Airport for our departure where our tour comes to an end. (B)
The trip price includes:
Services of Nancy Hoskins as our textile expert and Christine Pearson as tour concierge. Arrival and departure transfers, all transportation, 4-star hotels and Nile Dahabiya Cruise, sightseeing, entrance fees, local English-speaking guides, flight Aswan- Cairo, sleeper train Cairo-Luxor. Meals as indicated in the itinerary.
Items not included are:
International airfares to Cairo. Visa fees (available on arrival at Cairo Airport). Insurance – compulsory on all of our escorted tours. Additional meals. Drinks. Gratuities. Optional tour to Abu Simbel. Spending of a personal nature, e.g. laundry, souvenirs, phone calls etc.
Additional Expenses
For meals not included you should allow around US$20-25 for lunch and around USD$25-30 for dinner. In addition, you should allow for drinks and any personal shopping you may wish to do. There is plenty to purchase in the bazaars including textiles of all sorts, gold and silver jewellery, papyrus paintings and brass and copper items – so be prepared!
The cost of the Abu Simbel excursion is $USD310 approx. per person including transport, flights, the entrance fee and a local guide. This must be pre-booked and is paid locally in US Dollars cash.
What We Provide
Accommodation
In Cairo our superior 4-star hotel is located in downtown Cairo providing good connections to the many attractions we visit. Between Luxor and Aswan, we travel aboard a 4-star chartered dahabiya with comfortable cabins, private facilities, a bar, restaurant, and spacious sundeck. In Alexandria we continue the Edwardian theme and stay at a lovely colonial hotel, built in 1904, in the heart of the city, overlooking the harbour. *Single cabins are limited on dahabiya and the supplement is not applied if we can't provide a single use cabin.
Food and drink
Daily breakfast is included and all meals while cruising and four other dinners. Meals offer a choice of Egyptian and international cuisine with soups, salads, meat dishes, pasta and variety of desserts. In Cairo there will be an opportunity to eat at a number of local restaurants with recommendations provided by Nancy and Christine. Bottled water is widely available throughout Egypt and soft drinks are also easy to find. Alcoholic drinks (local beer and wines) are available in tourist hotels.
Flights
This tour has been designed to fit perfectly with the Emirates and Emirates into and out of Cairo. It is possible, however, to travel with other carriers that services Cairo. Contact us to discuss options.
Note on Prices
Prices are correct as at January 2020, and based on AUD-USD exchange rates at the time. Any moderate change may mean adjusting the price. Prices are in Australian dollar AUD.
Joining instructions
This detail and many others are provided with our comprehensive trip information booklet.
Reservations
Email to: robert@intenttravel.com.au to send an inquiry. Or download our Reservation Form.
To secure your place, please email your intention to join Textiles of Egypt. You will then receive a reservation form to complete. Your option is held for seven days secured by receipt of a non-refundable deposit of $750 per person. Deposit is refunded if minimum numbers are not reached.
Your expert tour host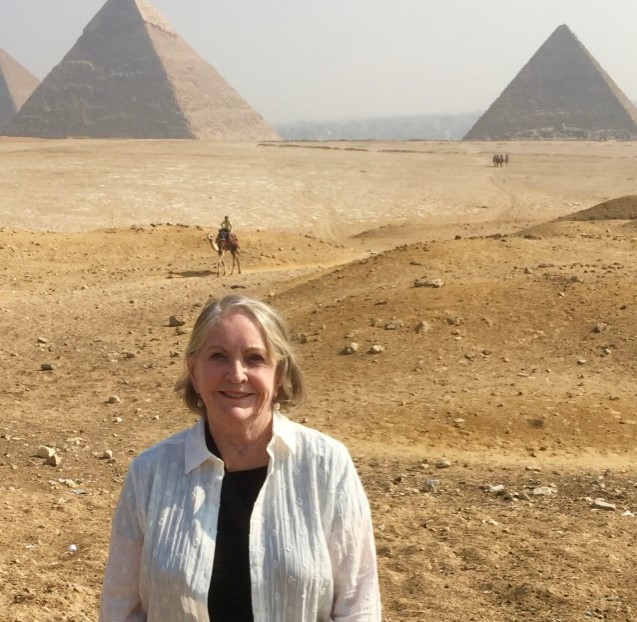 Based in the US, Nancy Hoskins, author, artist and teacher, has lectured, taught, and studied worldwide. Egyptian textiles, which have been the focus of her research in museums around the world, led to the publication of "The Coptic Tapestry Albums and the Archaeologist of Antinoé, Albert Gayet".
Nancy also has a recent series of ten articles on "The Tutankhamun Textiles" and "Patterned Fabrics found in Egyptian Tomb Paintings" and other titles including "Weft Faced Pattern Weaves: Tabby to Taqueté" and "Universal Stiches for Weaving, Embroidery, and Other Fiber Arts". Nancy was a college weaving instructor from 1981 to 1996. She has participated in solo and group exhibits in several US states as well as Australia. She is currently teaching weaving workshops, writing, exhibiting, researching and presenting lectures.