6 Days | 08 Aug – 17 Oct, 2021
6 Days | Weekly from Sunday 08 Aug to 17 Oct, 2021.
From $AU2,977 per person based on six passengers, joining at nearby airports. Three dates already booked.
PERFECT FOR YOU AND UP TO FIVE FAMILY MEMBERS OR FRIENDS. The Whitsundays is justifiably ranked as one of the top ten holiday locations in Australia. The eclectic collection of over 70 islands, stunning scenery, beautiful waters, reefs, fish, whales, and pretty beaches, offer the perfect location to relax and unwind. There is no better way to discover the entirety of this UNESCO National Marine Park, than by boat. Our program offers a spacious and glamourous sail catamaran, with just three bedrooms, managed by Andrew Pearson, a knowledgeable and experienced skipper.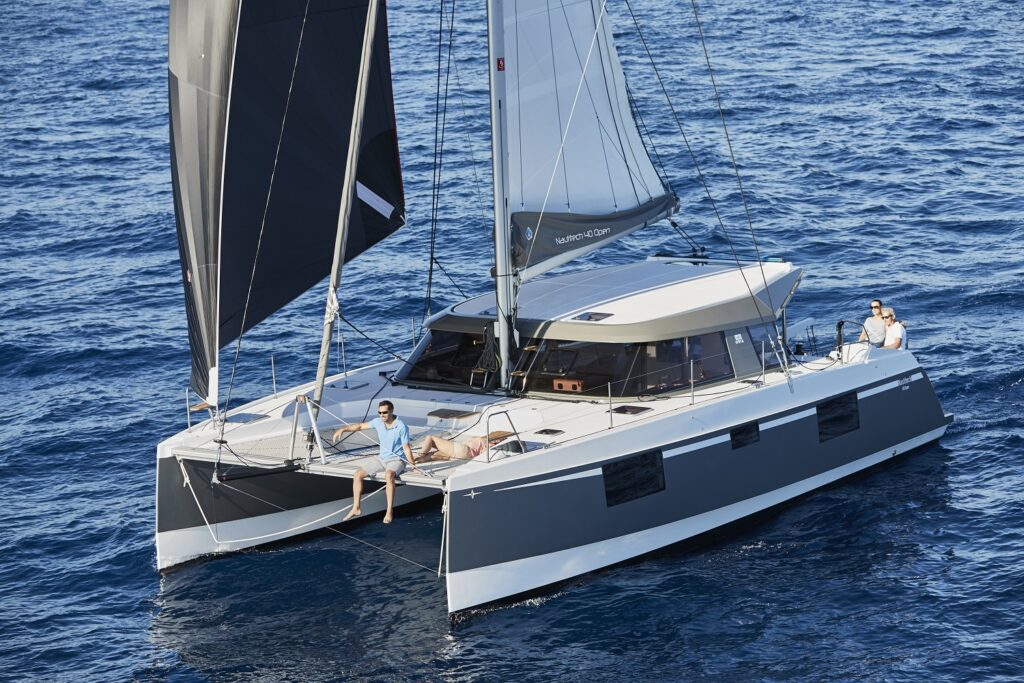 No Anxiety. No fuss.
We arrange everything so you can truly experience the wonders of the Whitsundays in style!
Your Yacht
French designed and built, Nautitech Open 40 catamarans are 40' in length with a beam of 23' (12m x 7m), making for spacious living and entertainment. Fit-out is stylish and incorporates full bathrooms with showers, complete kitchen suitable for gourmet meals, inside and outside single-level lounge areas with comfy furniture providing plenty of space, and a generous trampoline (stretched between the two hulls) out front for expansive views and relaxing.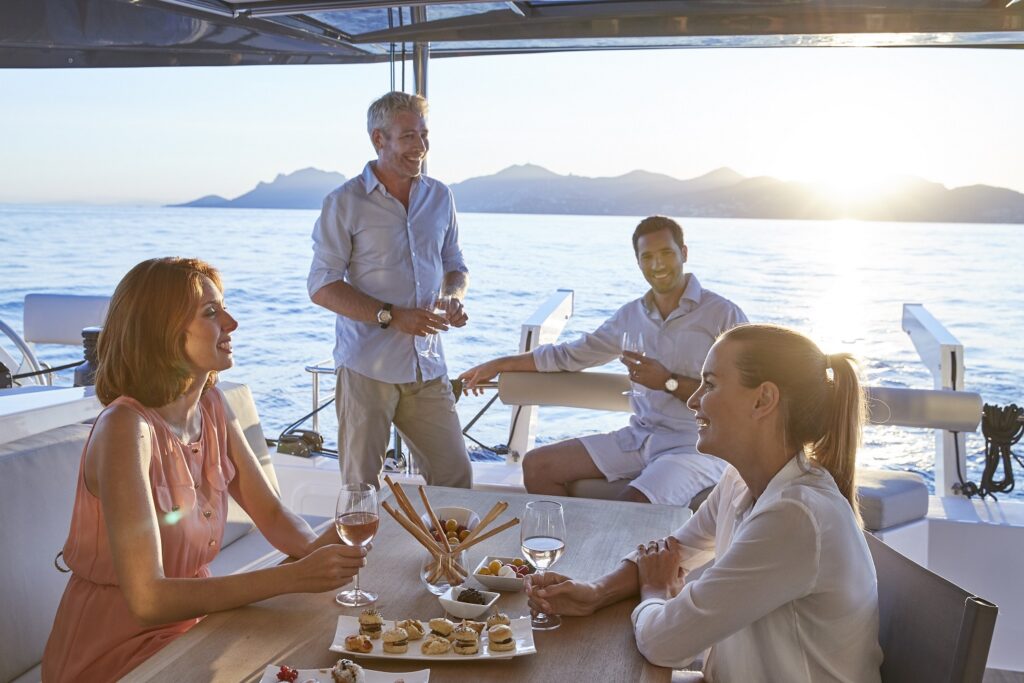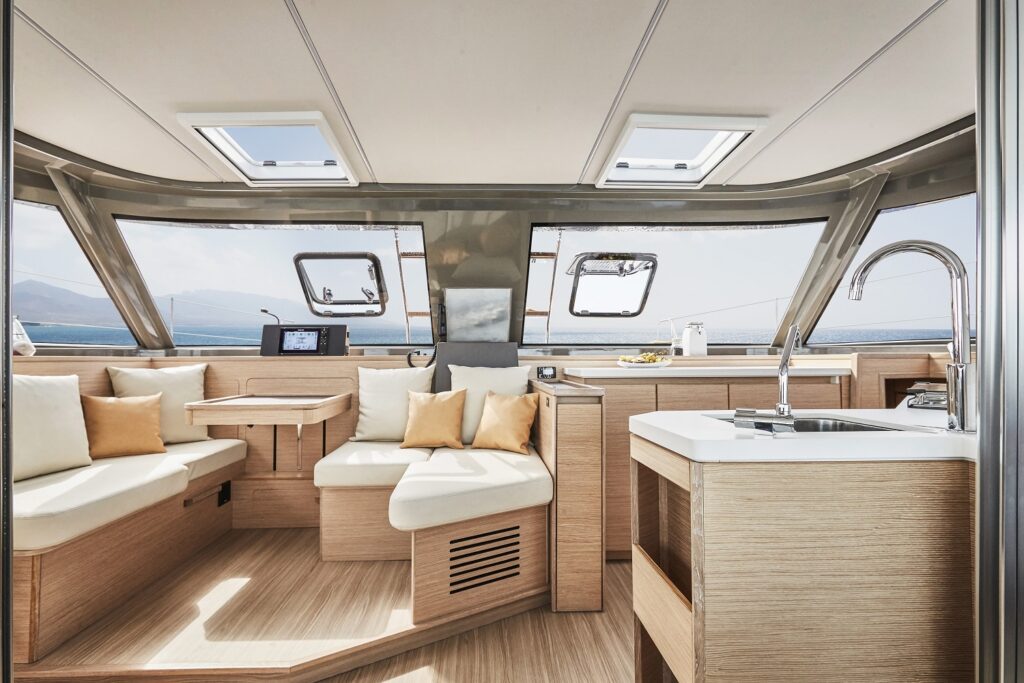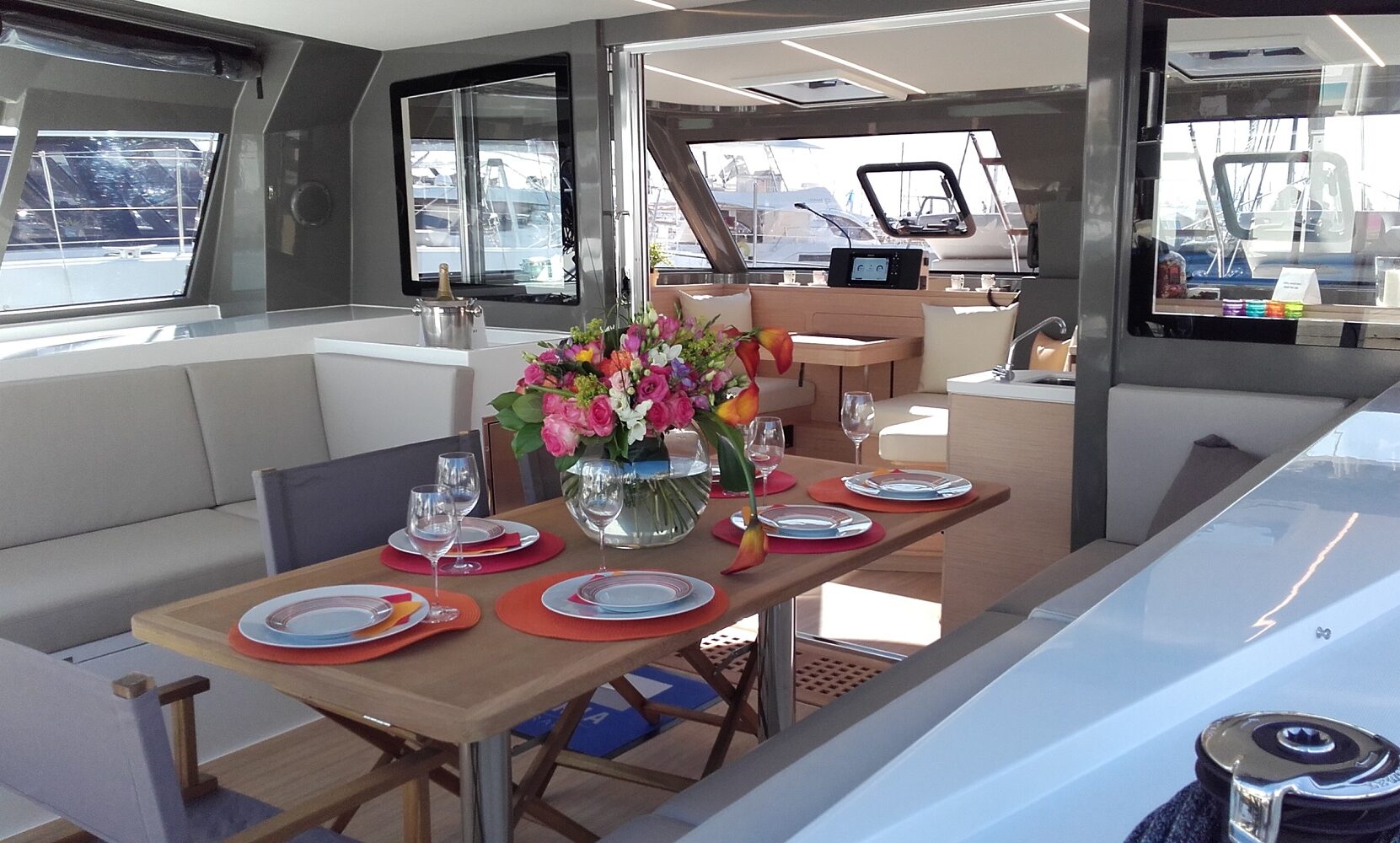 For a 'walk through' view of your catamaran visit:
http://www.nautitechcatamarans.com/en/40-open.html
Full ship to shore communication and multiple navigation systems, together with lifejackets and rescue equipment, provide the highest level of safety and security.
Additional features include a BBQ, USB ports, BOSE Bluetooth surround sound, coffee maker, ice making freezer, stern mounted dinghy for shore excursions, swim ladder, and more. *Paddleboards optional.
The combination of an excellent personal Skipper, a delighful and spacious yacht, flexible itinerary to reap the most from attractions found in this perfect location, combine to offer an ultimate sailing experience.
Your Cabin
There are just three double cabins. The larger suite comes with its own en-suite bathroom with shower, wash basin and full-size toilet. The other two double full size cabins share similar bathroom facilities. All cabins have large windows, fans, linen, and good head height. There is plenty of storage and small wardrobes. Soundproofing is excellent as well. The cabins are located down short stairs and there is no wheelchair access.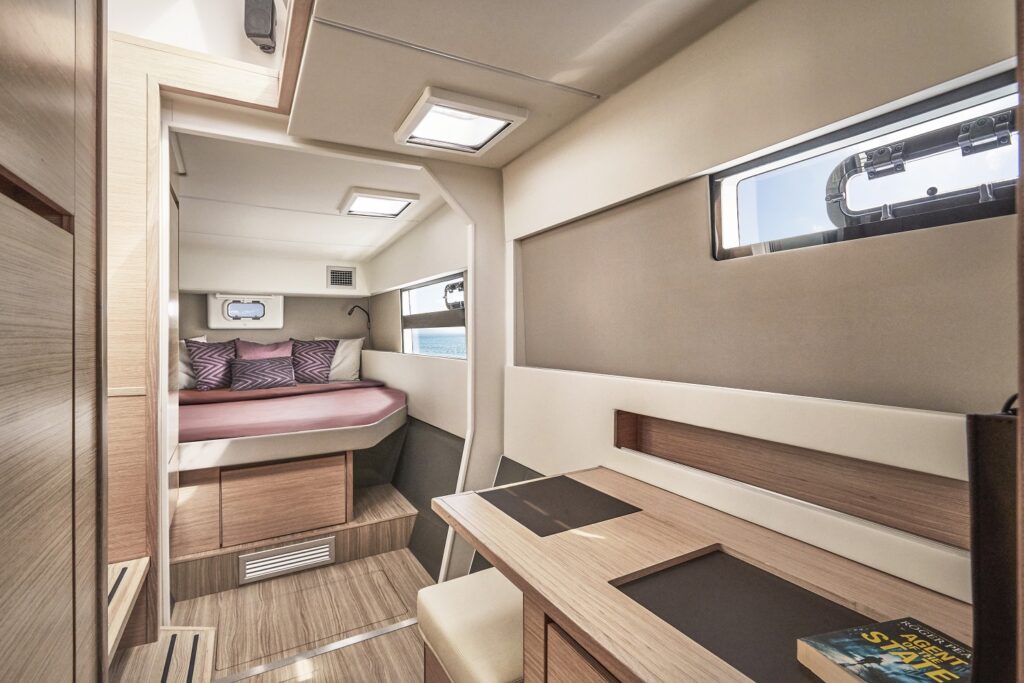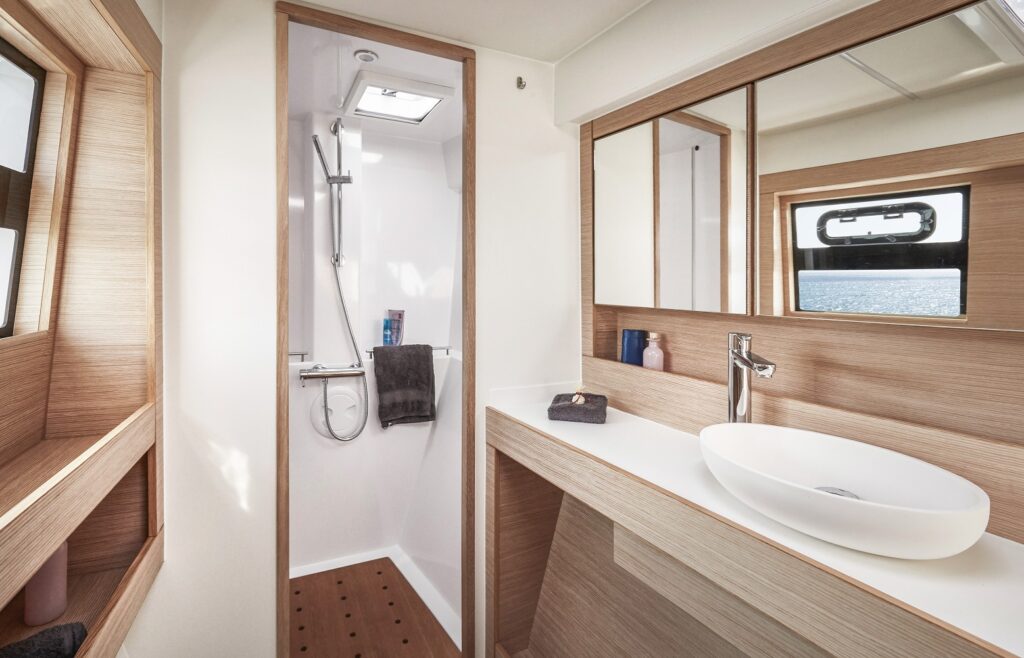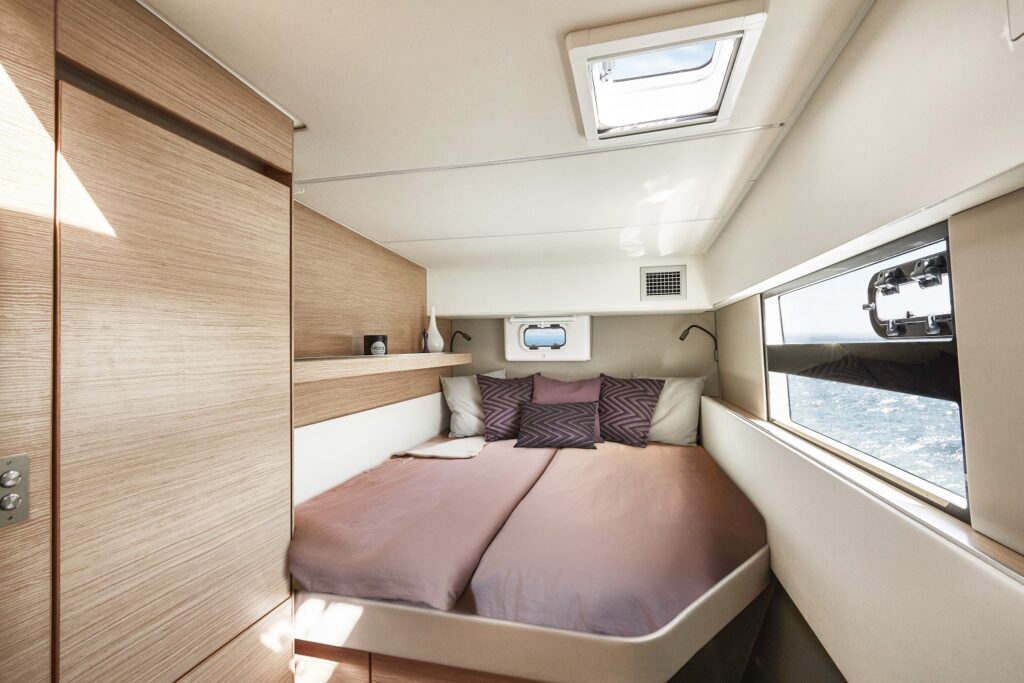 Your Experienced Skipper
Andrew Pearson is your skipper who began sailing in his early teens.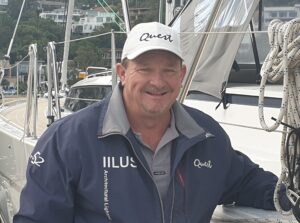 With decades of ocean sailing experience, including over 20 Sydney to Hobart races (with two Overall wins), Junior and Senior World Champion titles, numerous Hamilton Island Race Week titles, and a true love of recreational sailing, you are assured of a professional, safe, and sound sail experience. Andrew is fully certified ocean skipper and with intimate experience of the Whitsundays' bays, inlets, and beaches, you are in the best possible hands.
Of course, if you wish to learn how to sail, or add to your sail knowledge, then you could not find a more competent instructor in Andrew.
Your Personal Chef
Why not upgrade your luxury holiday with Valentine Costuna as your on-board personal Chef. Valentine will attend to your catering needs from designing your menus to presentation of his international chef skills.
Valentine is a young Australian and passionate chef, classically trained in French cookery. Originally trained at one of Canberra's acclaimed restaurants, Valentine, with the intention of broadening his world experiences, has cooked at a number of Chef Hatted, World Top 50's. and Michelin starred restaurants. He has cooked in Sydney (Bondi Icebergs), throughout France, Montréal, Lima, London, Singapore as well aboard ships in the high Arctic & Antarctica. Valentine's culinary style focuses on fresh seasonal, and sustainable ingredients to create diverse dishes reflecting his extensive multi-cultural kitchen experience.
PROVISIONING: All departures will be provisioned according to your menu requests, and if you prefer, you can prepare your meals at anytime. On deck BBQ's, picnic dinners at sunset, baked fresh fish, are just examples of the possibilities. However, for a complete superior experience, why not enlist Valentine to prepare your meals, snacks, and clean up afterwards? He is also available to accompany you on island walks.
The Program
We provide a complete personalised package, tailored to your preferences. We are not fixed or inflexible. After all, we want you to enjoy the Whitsundays to their best, in the best way possible.
You will be met at Hamilton Island, Proserpine airport, or at your hotel, and transferred to our dock, where you are met, briefed and settled in. An advantage with our program is that you do not spend your first night on board at the dock, but head out to sea.
Over six days we sail to the main attractions found in this UNESCO World Heritage region such as Whitehaven Beach. There are many opportunities for coral snorkeling, and a number of islands will be visited where we can participate in a variety of walks through island rainforests, along pristine sandy beaches, swim in delightful bays, or enjoy a picnic lunch. We can also call into a resort for a change of pace.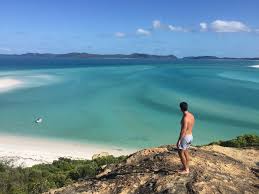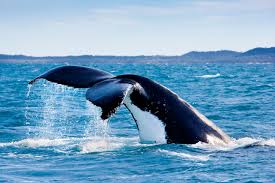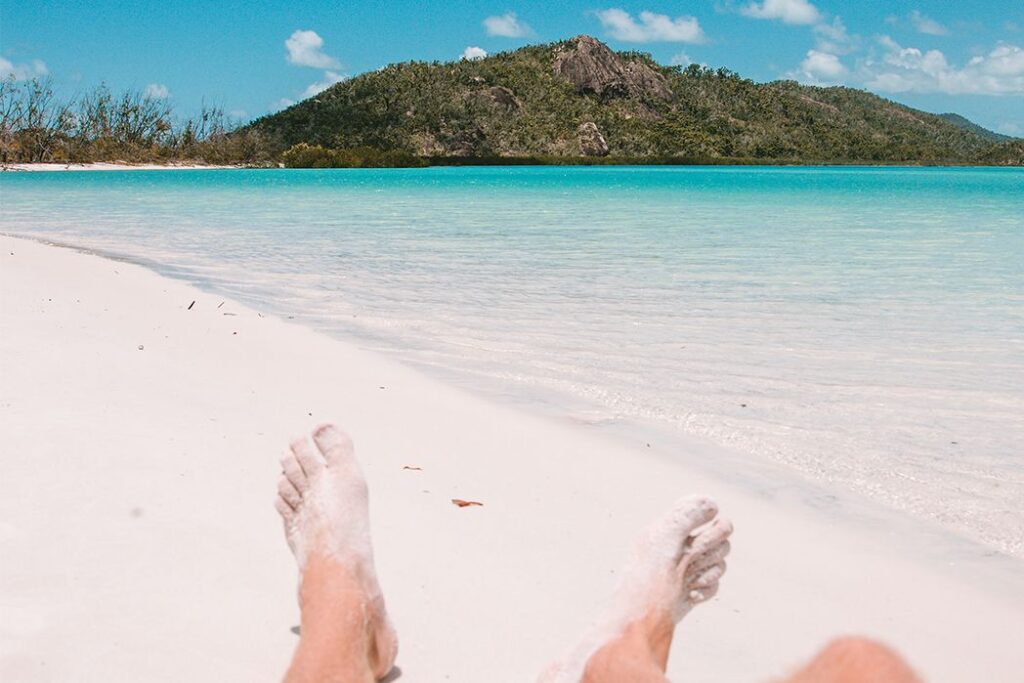 The course we follow is governed by prevailing winds and weather, elements your skipper constantly monitors, making course decisions to optimise safety and your enjoyment. Our flexible itinerary means your skipper would take you to a protected bay rather than beating into a storm to get you to a specified attraction.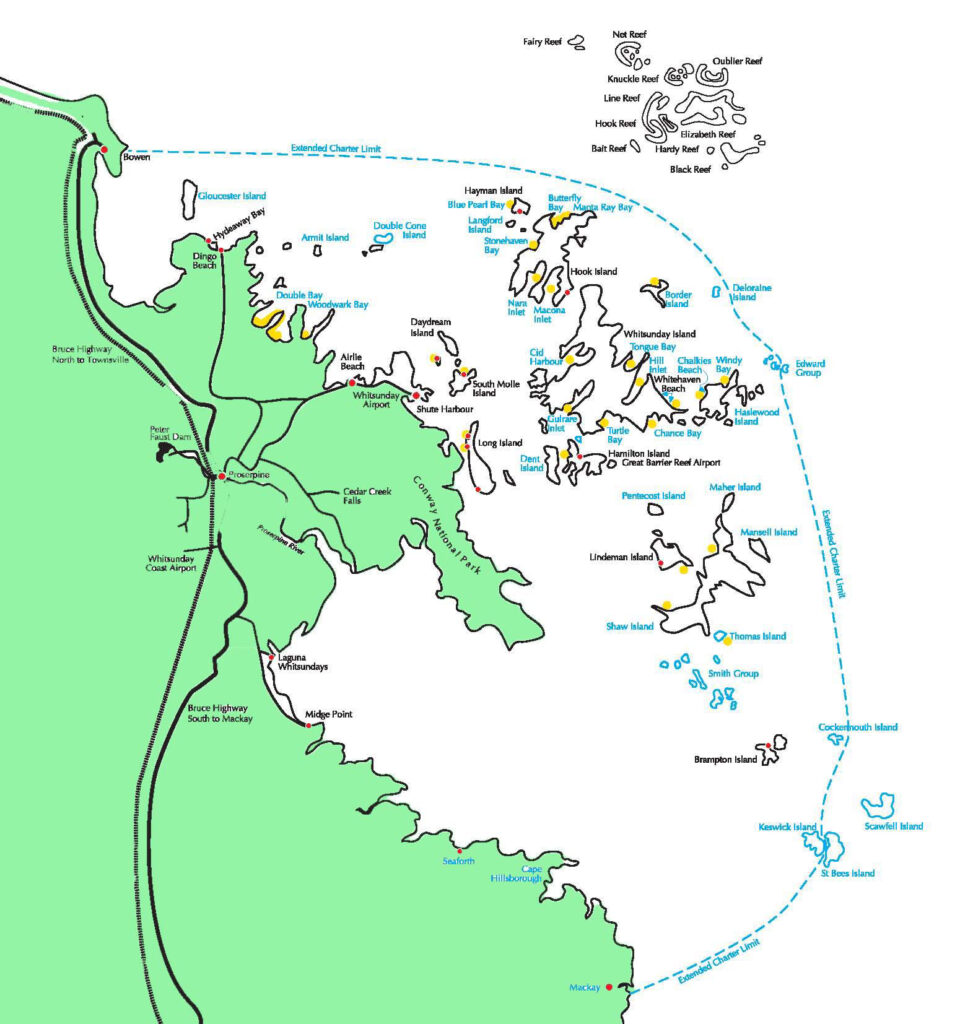 On your final day, disembark and be transferred to Proserpine or Hamilton Island airport for your departure flight, or to your hotel. You do not waste your time on this last day while we refuel (as fuel costs are included in your package price), maximising your sailing pleasure.
Is this Experience Suitable for You?
With just three cabins – a Suite with private ensuite, plus two double cabins, our program is perfect for families. It is also suitable for up to three couples or individuals. Consider our yacht for special events such as corporate entertainment, birthdays, reunions, or truly personalised travel.
You do not need to have sailing experience as you are well cared for by your Skipper who sails to your requests. A catamaran is wonderful if you are concerned about motion sickness as the two-hull design 'flattens out' the water. The Whitsundays, located within the Great Barrier Reef and with numerous islands, is a gentle body of water and devoid of swell and waves.
If you like the outdoors, water-based activities, comfort, great service, and travelling without having to pack and unpack every night, then consider our Whitsunday Experience.
Dates and Prices
6 days/5 nights, Sunday to Friday
Every Sunday from 08 August to 17 October 2021.
$AU17,864 per sailing for entire yacht.
Price per person varies depending on the number in the party. Relevant costs are:
| | |
| --- | --- |
| Number of Guests | Value per person |
| 6 | $2977 |
| 5 | $3573 |
| 4 | $4466 |
| 3 | $5955 |
| 2 | $8932 |
| 1 | $17864 |
Upgrade your experience with our Private Chef & Butler service. Be pampered while your International Chef prepares meals, serves drinks, tidies your cabin, and generally makes sure you are making the most of your holiday time. The Chef service consideration is $AU3,130 for the entire program period.
Based on three cabins and six guests, the value per person is $2,977 for the yacht charter, and $521 per person for the Chef services.
We believe our program represents excellent value!
Program Outline
We don't list a day-by-day program here as factors such as weather and Guest preferences can influence the program. Following discussion, the Skipper shall propose a best possible program. We don't have a hard and fast itinerary, instead we offer flexibility taking into consideration your input and preferences.
Sunday: Arrive at Proserpine or Hamilton Island airport where you will be met and transferred to our dock. Board your yacht and settle in. Over a welcome cocktail your Skipper will provide a safety briefing plus outline your proposed itinerary based on relevant weather patterns. We don't spend this night at the dock, but set sail to your first overnight on board.
Monday to Thursday: Your course will include numerous key attractions found on and amongst the variety of small and larger islands. There are many great places to call into and your Skipper will brief you as to the attributes of each potential location. Of course, having spent extensive sailing time in the Whitsundays, Skipper has a number of favourite places he would like to share with you. It should be mentioned that our sailing season is within optimal temperature and rainfall expectations, and the chance of inclement weather is low, optimising your visitation experiences. Highlights include enjoying viewing wonderful coral and marine life at secluded locations, being the only people to stroll pearly white sandy beaches, and relax over a cool drink absorbing a superb sunset.
Friday: Your Whitsunday sailing experience concludes after breakfast with disembarkation at our dock and transfer to your airport or nearby hotel.
Whitsunday Sailing Adventure Price Includes
Full access to your three-cabin deluxe catamaran sailing vessel. Services of our highly experienced Skipper who will plan a suitable sailing course, and pass on sailing tips and instruction. Airport-yacht-airport transfers. Menu planning service. Welcome cocktails, breakfasts, morning and afternoon teas, water. Access to snorkelling equipment and other water toys. Unlike other charter yachts, we include the Marine Park entrance fees, and Yacht fuel along with local taxes, charges, and docking fees.
Items not Included
We have included most items to keep your experience as hassle free as possible. We have not included the following as they are very personal, flexible, and obviously matters you would wish to be consulted on. They include: Travel to and from Hamilton Island or Proserpine. Travel insurance (this is compulsory and should include cancellation cover due to Covid. Some insurance companies provide this now). Alcohol (this can be purchased on arrival). Lunch and dinner (we arrange suitable provisioning according to dietary and other requests). Tips and gratuities, which are appreciated by your crew.
Reservation and Pricing
First, prices are in Australian dollars and payment in AUD is required. Payment by direct bank transfer or credit card is available (AMEX frequent flyer points can be redeemed as well). Additionally, prices have been calculated based on costs as at the time of writing and should there be a substantial alteration the change shall be passed on to our Guests.
Reserving your week can be made by phone 0417 269 540, email whitsundays@intenttravel.com.au. An option is held for 14-days allowing you time to arrange flights, and forward your deposit of 25%. Final payment is due 30 days before departure. Cancellation fees exist.
| | | |
| --- | --- | --- |
| VOYAGE | DATES | AVAILABILITY |
| 1 | 08 August – 13 August 21 | Available |
| 2 | 15 August – 20 August 21 | Available |
| 3 | 22 August – 27 August 21 | Reserved |
| 4 | 29 August – 03 September 21 | Reserved |
| 5 | 05 September – 10 September 21 | Reserved |
| 6 | 12 September – 17 September 21 | Available |
| 7 | 19 September – 24 September 21 | Available |
| 8 | 26 September – 01 October 21 | Option pending |
| 9 | 03 October – 08 October 21 | Available |
| 10 | 10 October – 15 October 21 | Available |
| 11 | 17 October – 22 October 21 | Available |
Booking forms, menu lists, and final documents will be forwarded progressively to you. We are always contactable should you have any question
More Information
We welcome your enquiries at anytime as we appreciate you may have questions and we are only too pleased to ensure you are perfectly satisfied in deciding to sail with us. All guests receive an Information Dossier with tips on preparing for your Whitsunday Experience upon receipt of deposit. But, in the meantime contact us with your questions.
Phone: Robert, (reservations) on 0417 269 540.
Phone: Andrew (Skipper) on 0417 088 421.
Email: Reservations and Enquiries – whitsundays@intenttravel.com.au