18 Days – 14 June – 01 July 2023. $AUD6453 pp. Joining in Baku.
Explore the beauty of the Caucasus on this guided walking program.
For many the Caucasus evoke mystery, intrigue, and betrayal. It is also a region of wonderful natural beauty best explored by foot, following ancient paths winding through valleys and over passes. Today, outside contemporary cities, the past still exists, which is what draws Peter Telford, our new walks' tour leader, to create a "three-country" moderate walk program which can be experienced in June, 2023.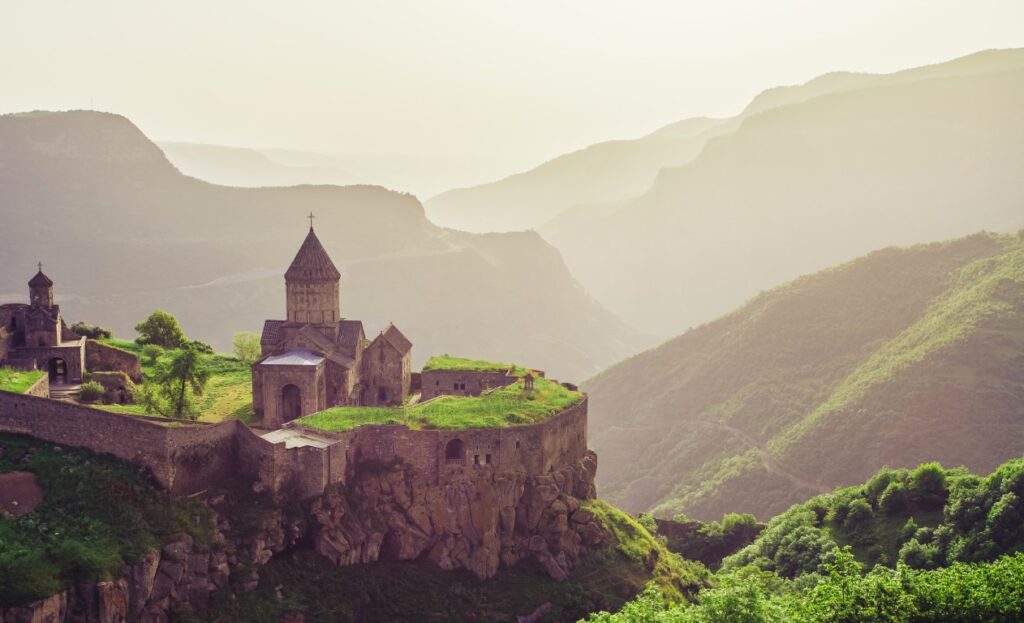 Our exploration of the Caucasus commences in Baku, the capital of Azerbaijan. You will be met on arrival at Baku International Airport
and transferred into the heart of the city for a 2-night stay.
Our journey concludes in Yerevan and a group transfer to the airport on the final day is provided.
Guests may like to spend a few nights before or after this trip in Baku or Yeravan. Or arrange a stopover in Dubai, Doha or Abu Dhabi. Contact us if you would like assistance planning a pre or post journey 'city stay' or contemplating further exploration in surrounding countries.
Full joining instructions are provided in your final travel documentation. If you have questions before this time, please ask us.
Itinerary
Day 1-2 – Arrive Baku – Azerbaijan
Over two days we enjoy a comprehensive walking tour of the historical old town, wander past Little Venice, make our way up the funicular to the Flame Towers. We also learn about Baku's rich and complicated history, its historical building and noting its many and varied museums and galleries. We also enjoy an authentic Azeri dinner.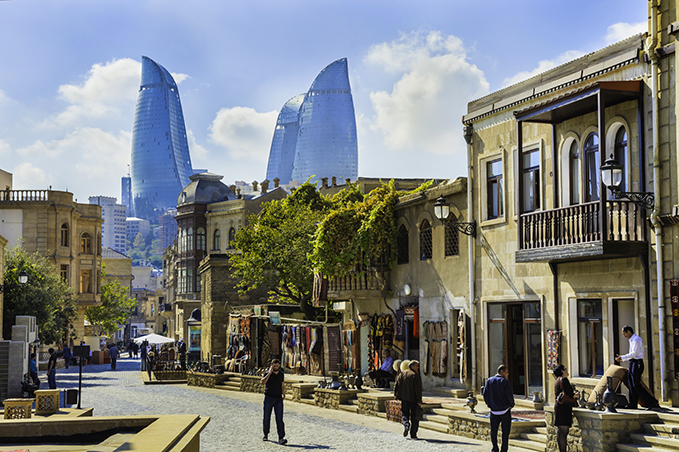 Day 3 – Baku – Sheki
An early start for Sheki passing oil production infrastructure and spectacular nothingness framed by jagged barren mountains. At Sheki, visit the ornate Xan Saray Palace with its ornate murals and brilliant stain glass windows. We include the lesser known, but equally pleasant Winter Palace, and caravanserai to enjoy afternoon tea in its garden café.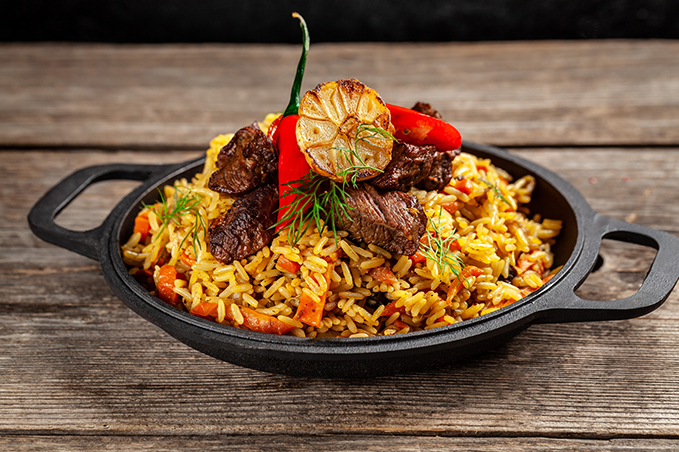 Day 4 – Azerbaijan to Georgia
An early start to cross the border and make our way to the Georgian capital of Tbilisi. Along the way, depending on time, we may visit a winery, or historical buildings.
Day 5 – Tbilisi
A busy day exploring the old town, take the Cable Car to Narikala Fortress overlooking Tbilisi, and visit a number of the important cathedrals, and the ethnographic museum.
The coffee shops are attractive we dine at a traditional Georgian restaurant.
Day 6-8 – Tbilisi-Kazbegi
We head north to the Russian border and over three days visit the small village of Stepantsminda located within the foothills of Mt Kazbegi. From here we walk to the 14th century Tsminda Sameba Church (Gergeti) located in a stunning setting atop a hill framed by snowcapped mountains, making it a symbol of Georgian natural beauty.
Our second walk takes us to the Truso Valley for a spectacular 6-hour walk. We see abandoned villages, peculiar travertine formations, and the ruins of Zakogori Fortress.
Before returning to Tbilisi we hike from the small village of Juta to the foot of Chaukhi Massive, a relatively flat and easy 3-hour wander through the valley surrounded by the snow-capped peaks of Chaukhi. Arrive Tbilisi for a relaxing Hamman treatment and Tbilisi's generous hospitality found near the Freedom Square precinct.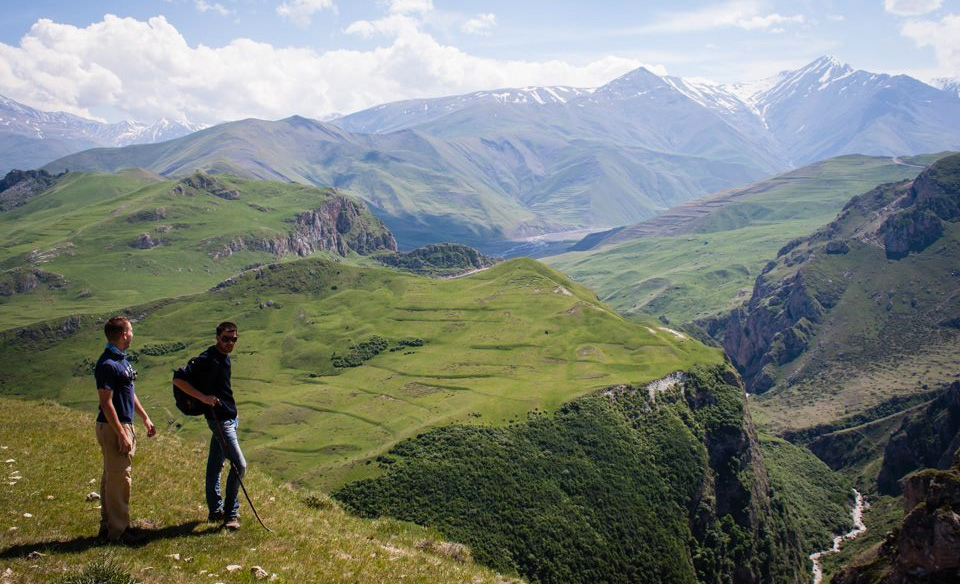 Day 9-11 – Tbilisi
You have the morning to yourself to relax or wander the flea market, picking over Soviet and WW2 memorabilia. This afternoon, we walk through Tbilisi old town learning the history of the many churches of Tbilisi and the Soviet legacy and history. Find out how the city transformed from a non-descript Soviet town into the history rich modern vibrant city it now is.

Over the next two days we make excursions out from Tbilisi to visit the Stalin Museum and birthplace and home of Stalin, the fascinating 6th century BC cave city at Uplistsikbe, and the ancient monastery complex of Davit Gareja overlooking the Azerbaijan flatlands and surrounded in early summer with rolling fields of wild flowers.
Day 13-15 – Yerevan
Join our walking tour of the city followed by a group meal at a tradition Armenian restaurant. We visit the rock-hewn churches of Geghard Monastery, and perhaps enjoy a private performance by a local choir in the acoustically perfect stone carved chamber. We travel to Garni Temple built in the 1st century AD, dedicated to the heathen Sun God. We spend time in the Armenian Genocide Museum and the highly rated Antiquities Museum of Yerevan.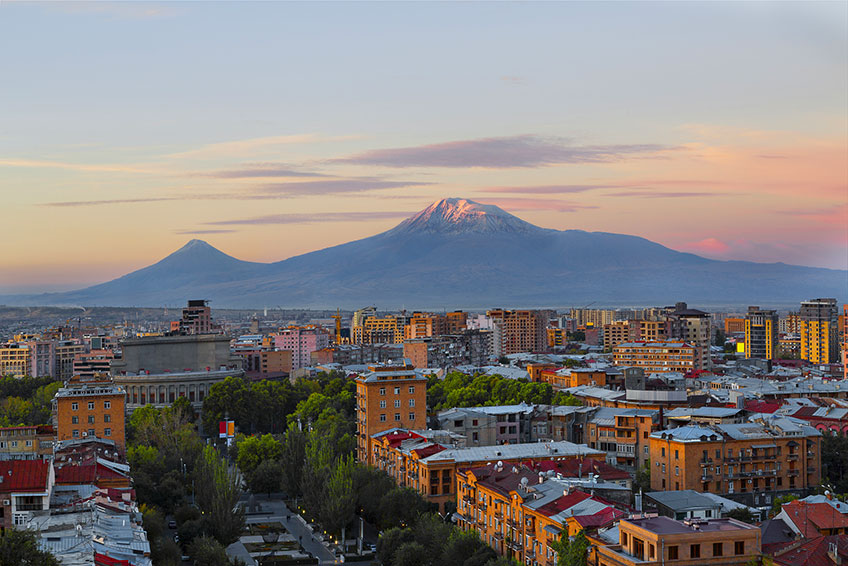 Day 16 – Yerevan – Goris
We leave the watchful eye of Mt Ararat behind us on our picturesque drive to Goris. Take the world's longest cable car to the fortified 9th century AD Tatev Monastery.
Walkers are rewarded by wandering the surrounding hills discovering ancient pyramid stones and cave churches as well as grazing cattle and inquisitive children.
Day 17 – Goris-Stepanakert-Goris
We cross the border into Nagorno-Karabakh and into a different world. Largely unknown to the travelling public this self-proclaimed Republic oozes "different". It has its share of historical monuments and churches, grand buildings and cafes but it's the atmosphere that enchants you. We wander Shushi, once the centre of Armenian art and culture, and a strategic city with views over the republic. We then go "down the hill" to Stepanakert to explore and enjoy all it has to offer.
Day 18 – Yerevan Departure
All good things do end, and we leave Goris to return to Yerevan for your flight home. End of program on arrival at Yerevan airport. Extra nights can be arranged.
Your Expert Tour Host
Peter Telford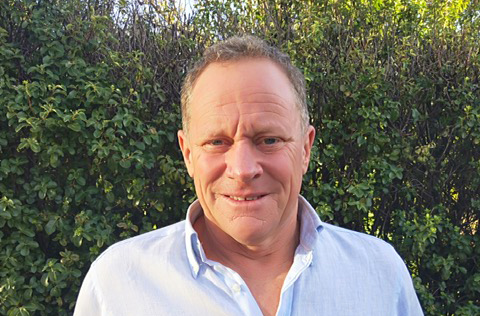 For me, the best part of travelling is not always the big blockbuster sights. It's the small and unexpected things – conversation with a vendor in the shadows of the separation wall in Bethlehem, a truly delighful meal in a small village in Georgia, the night in a Muslim bar in Essaouira, Morocco and, of course, the wonderful, kind and helpful people you meet along the way.

Travel seems to be in my blood, having been lucky enough to visit over 70 countries. My job as a fire fighter in Canberra, Australia, has provided me opportunities to travel, and I've jumped at every one of them.
Join me to discover one of my favourite areas -Azerbaijan, Georgia & Armenia. Truly surprising destinations with spectacular scenery, dramatic history and sights, a wide variety of architecture, good food,lovely people, comfortable walking followed by a local cafe at day's end.
I invite you to travel with me in June as we discover this magnificent, yet little visited region.