14 Days | 08 -21 August, 2022.
$US 5,717 (AUD8662) per person, joining in Lima, concluding in Lima. Minimum of six Guests.
Join Valerie Kirk on this fully escorted program and experience the textiles of the people of the Andes.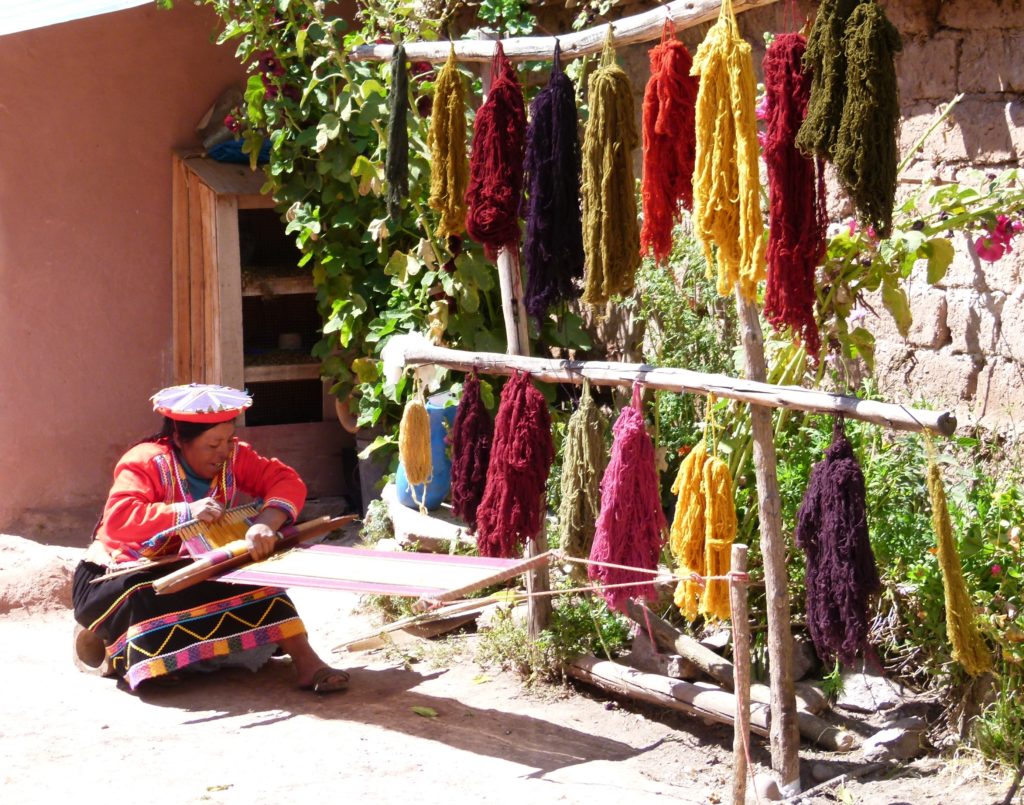 "The skill of Peruvian weavers has confronted experts for centuries."
Join Valerie Kirk on this fully escorted program and experience the textiles of the people of the Andes.
Recognised as a unique and spectacular region for ancient ruins, beautiful mountains, former civilisations and hospitable people, Peru is also justifiably known for its textiles. Ancient examples are so complicated modern experts can't replicate them. Today, weavers follow traditional skills and impress anyone with an interest in textiles and other crafts. As with all Intentionally Different trips we visit UNESCO sites, participate in a number of private workshops, and over dinner at Peru's interesting restaurants Valerie and Guests find a perfect venue for discussion on what was experienced during your wonderful day.
Ancient cloths showing intricate patterns and fine skill have been discovered in age old tombs in the north. Today, mountain villagers, and towns people, weave, embroider, dye and stitch as they have for centuries. Our program aims to show our guests all aspects of this vibrant past and present fabric tradition.
Today's textile production in Peru is centred on the valleys of the Andes in the south and central regions which is where we travel to.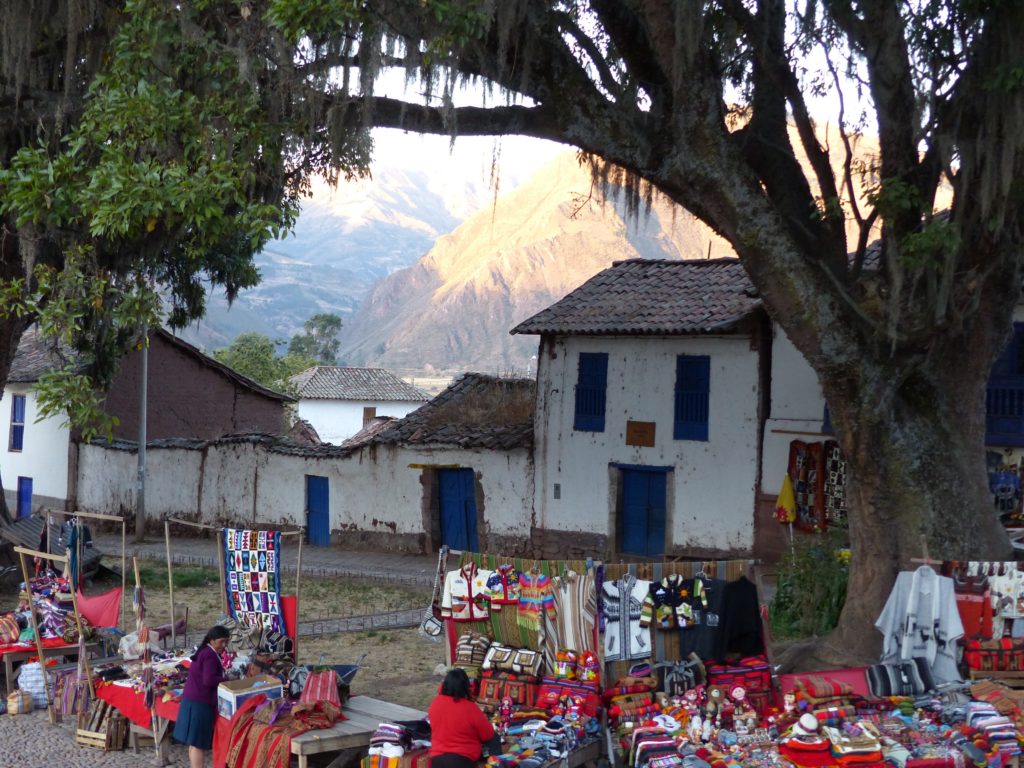 Lima is our entry point where we examine a superb collection of stunning textiles before moving to the 'white city' of Arequipa, a delightful town resplendent in Spanish colonial architecture. We then travel to Puno and one more highlight – Lake Titicaca where all manner of llama and alpaca colourful products are made.
Cusco with its centuries of history is our next stop. Here we explore the Spanish legacy before travelling to the Sacred Valley where a local Master Weaver provides an excellent demonstration.
Machu Picchu, being so close can not be avoided and a visit is a 'must'. At a nearby textile centre we learn more about local techniques.
All the way we enjoy boutique and charming accommodation, delve into markets, shops and galleries as well as meet weavers, potters, artists and jewellers as we weave our way through Peru.
Join Valerie on another excellent journey!
Dates and Cost
14 days| 08 – 21 Aug, 2022. | $US 5717 ($AU8662) per person twin share. 
Joining in Lima, concluding in Lima. Minimum 10 people, maximum 16 people. Single room $USD1160 ($AU1758.
Price could alter due to exchange rate fluctuations and revised prices from Peru.
Highlights
A total of 14 days in total.
Visit a variety of old Spanish towns.
See the best and obscure Inca ruins.
Experience the antiplano, high altitude lakes, volcanoes and glaciers.
Discover a number of world renowned Peruvian Fushion meals.
'Meet the Maker' workshops.
Wonderful comprehensive program with diversity and unique experiences.
Excellent personal service with our local Guide and Valerie Kirk as our textile guide and our Tour concierge.
Enjoy the comfort of our personally selected hotels.
Itinerary
Day 1 – 2: Lima
Arrive Lima for a group transfer to our hotel for two nights. Visit the icons of Lima. Delve into the history and basis of textiles and other crafts and skills from ancient Peru to more modern times. Join Valerie as hosts a welcome dinner for our group.
Day 3: Fly to Arequipa
Explore the local history and receive an introduction to Peruvian traditional textile production.
Day 4: Colca Valley
Chivay town is where many of the local inhabitants still wear beautiful traditional embroided costume.
Day 5-6: Puno : Lake Titicaca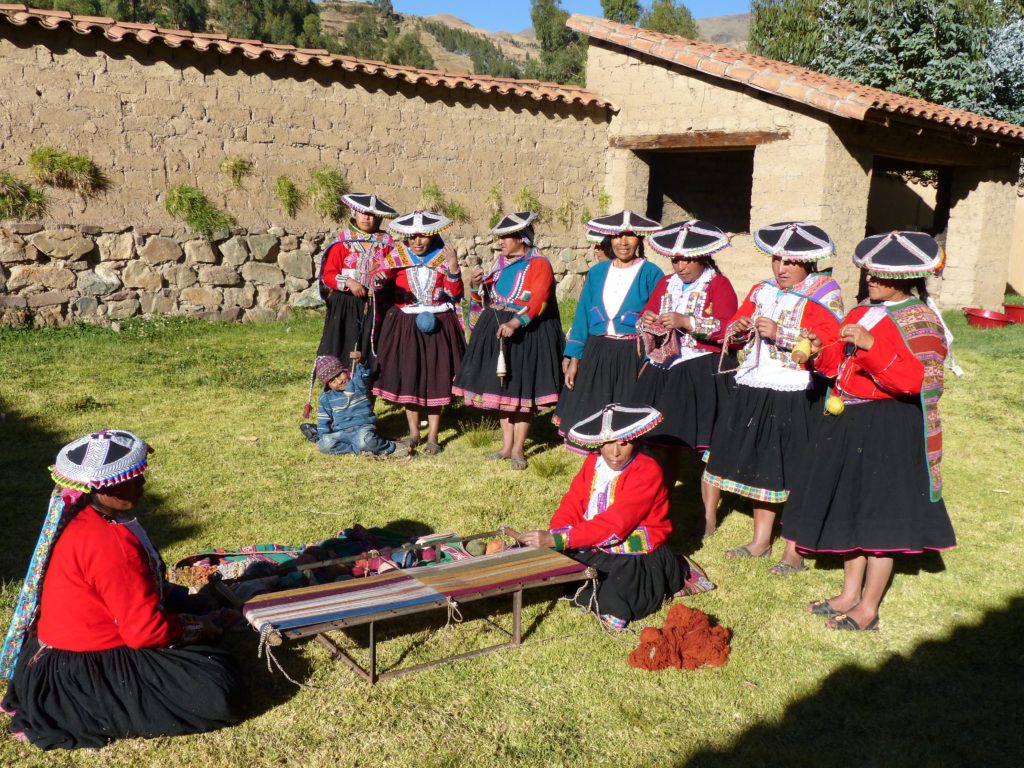 Today's travel highlights the vastness of the high plateau, the struggle to eek out a rural lifestyle and the magnificent scenery from volcanoes to glacier clad mountains. Our day at Titicaca is devoted to learning about the Taquile island weavers and knitters and the reed island dwellers – their history from Inca to Spanish resistance. We see how they survive and of course enjoy the colourful textiles woven from llama and alpaca wool.
Day 7-8: Cusco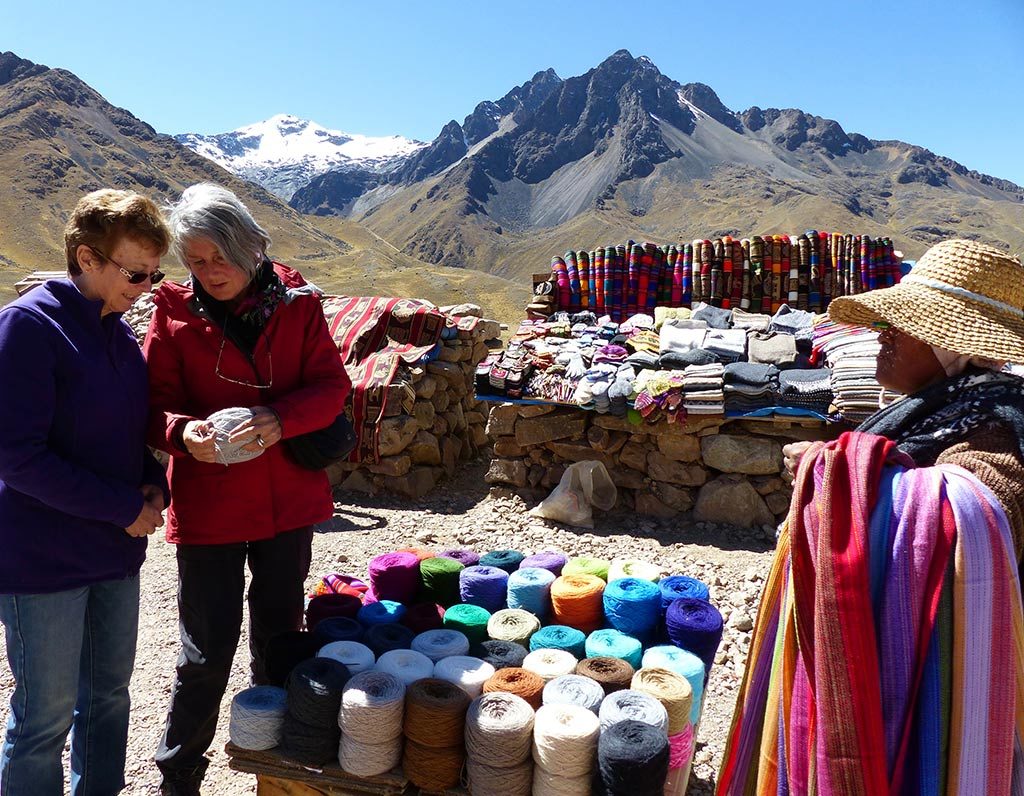 Today we cross the Peruvian antiplano where herds of llama, alpaca and the rare vicuna are seen. The weaving centre we visit is just one highlight today. Cusco is a delightful colonial town and easy to be distracted by the streetscapes, small shops, bustle of markets and of course the crafts and textiles. While in Cusco we meet personalities, visit ancient and spectacular ruins, inspect Spanish glories and absorb the 'feel' of this pleasant town.
Day 9-10: Sacred Valley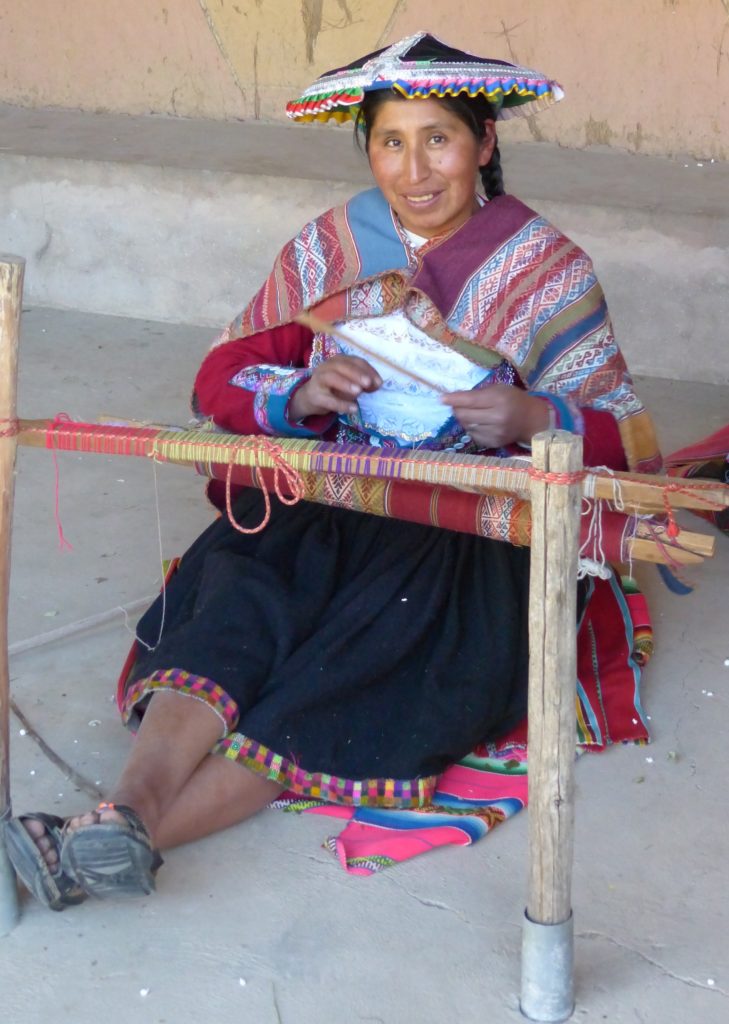 We move to the Sacred Valley via some of the best examples of Cusco Colonial art where work by Indian painters is superb. Later our Master Weaver demonstrates vertical weaving. Later, discover 1001 uses for rock salt which the local people have been refining for centuries. A highlight of our program (just one of many) is our workshop with weavers, members of a local Traditional Textiles centre dedicated to preserving ancient textile designs.
Day 12: Machu Picchu
Following a great train trip spend several hours taking in this fabulous archaeological site. Afternoon return to Ollanta by train.
Day 13: Cusco
Travel to Cusco with free time for private exploring, or shopping. Tonight Valerie hosts a farewell dinner.
Day 14: Depart
An airport transfer is provided for your flight to Lima, and home.
Stay longer in Peru – Extend your tour to experience the remote historical town of Ayacucho where we will visit textile workshops and the archaeological complex of Wari, capital of the first Andean Empire. Visits to craft villages and museums are also included. This 4 Day Ayacucho extension from the 22 August is $1213 USD, single supplement $257 USD.
Or join a Lodge based walk along the Lares trail. Please contact Robert for details and suggestions
Plenty of other extensions to your South American journey available. Contact us so we design the best for you.
The trip price includes:
All accommodation in comfortable hotels.
All breakfasts, some lunches and dinners
Sightseeing, transport, entrance fees to attractions listed.
Luggage transfer between accommodations.
Good quality vehicles and train travel.
Services of Valerie Kirk together with local professional Guide.
Workshops and meeting of weavers and other crafts people.
Items not included are:
International flights (many choices). Travel insurance. Again, we have excellent prices for our guests. Meals not included – most lunches and dinners. Drinks. Guide tip, about $150 US. Passport and visa (if needed). Communication costs. Laundry. Additional services. Emergency expenses.
What to expect
Accommodation
We use personally selected western style hotels based on location, cleanliness and service level. Mostly 3 to 4 star.
Meals
Peru is regarded as a cuisine capital and there are many cafes and restaurants offering international fare. Certain Peruvian dishes offer unique experiences and others are tasty and wholesome. Special diets can be catered for given prior notice.
Climate
The weather during our travel time is almost perfect with sunny, generally dry days In the higher areas expect pleasant days with cool to cold nights. However, mountain weather can change so some cold nights, fog and rain may prevail.
Walking distance and fitness
Our trip involves walking during our visitation, especially when we visit ruins and especially Machu Picchu. In the cities, plazas and squares may be cobbled, and Cusco, being at altitude will leave most people puffed for a short time. To enjoy this trip, we advise you have a good level of fitness as some days we walk perhaps more than your usual amount. Taxis can be used should walking be too much. it's important to wear worn-in walking shoes. Generally, any walking is easy to moderate.
Your expert tour host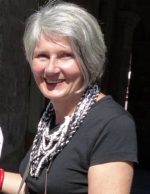 Valerie Kirk, Tapestry Weaver, Visiting Fellow and Emeritus Professor, The Australian National University, and Senior Fellow of the Higher Education Academy, will accompany this tour as Guest Lecturer. Her medium is woven tapestry and she is represented in a number of collections in Australia and overseas. Valerie is recognised internationally for her work as an educator and is devoted to encouraging an appreciation and understanding of textiles through her knowledge, along with direct contact with practitioners. Valerie has a wealth of information and is an accomplished tour manager, with over 20 years of accompanying textile focused tours. You will be in capable and informed hands.