28 July – 08 August 2022. 12 Days. $4,135
Experience the textiles and crafts of Ecuador with the option to continue to Peru with Valerie. We believe our new program highlights the diverse range of textiles and related crafts found in Ecuador. Enjoy outstanding scenery while discovering centuries old crafts using indigenous materials.
Program Overview
The inclusive itinerary should satisfy travelers interested in more than just 'being there'. Valerie Kirk, well-known tapestry weaver, is your Host. Our 11-day program begins in Guayaquil and travels overland to the capital of Quito. While we do focus on textiles and crafts, we also see much more of this interesting and spectacular country.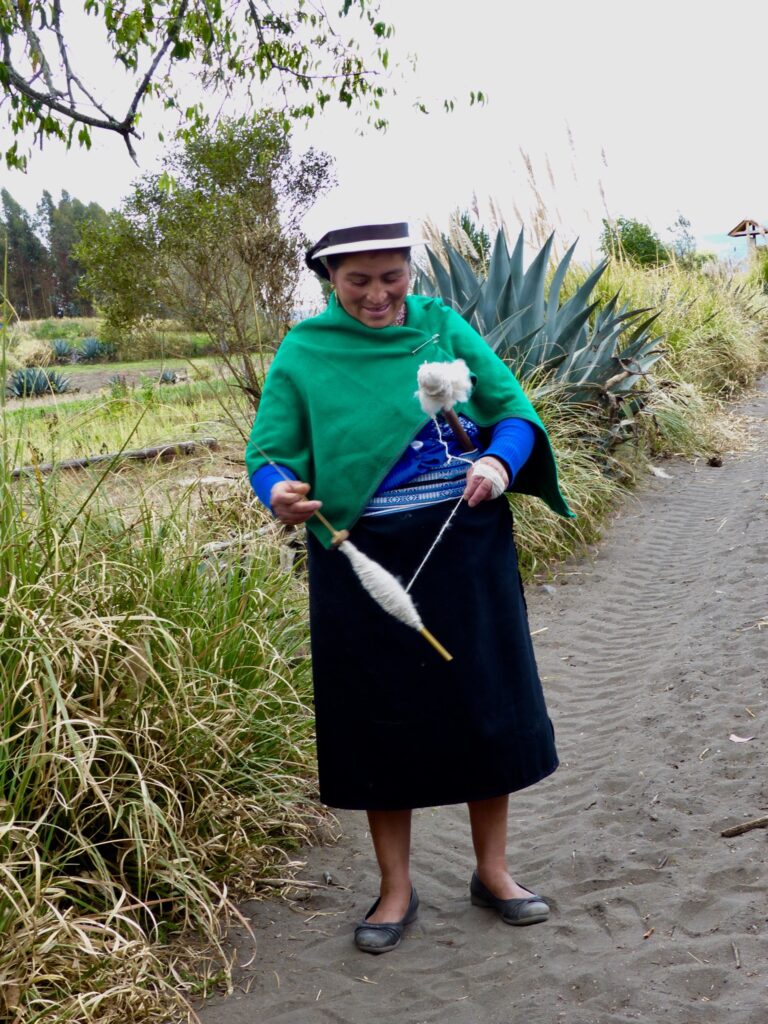 Flying into Guayaquil for two nights we drive to Cuenca, a centre of hat weaving. We continue past volcanoes and small villages where we see local crafts in action and explore ancient sites and colonial heritage. Arriving into Quito we travel to surrounding villages as well as explore the attraction of this old city.
Not only do we see and experience extraordinary scenery and history, but also interesting towns and villages. Craft skills are very strong – such as dyeing, embroidery, and weaving as well as other crafts – basketwork, hat making, and woodwork. We see these through village visits, meeting practitioners and hands-on fun.
"I have escorted travel for over 20 years and am excited about the treasures we shall discover at our new destination" – Valerie.
Our trips are very popular, so reserve you place now and don't miss out. From Quito guests can travel to join our Peru program.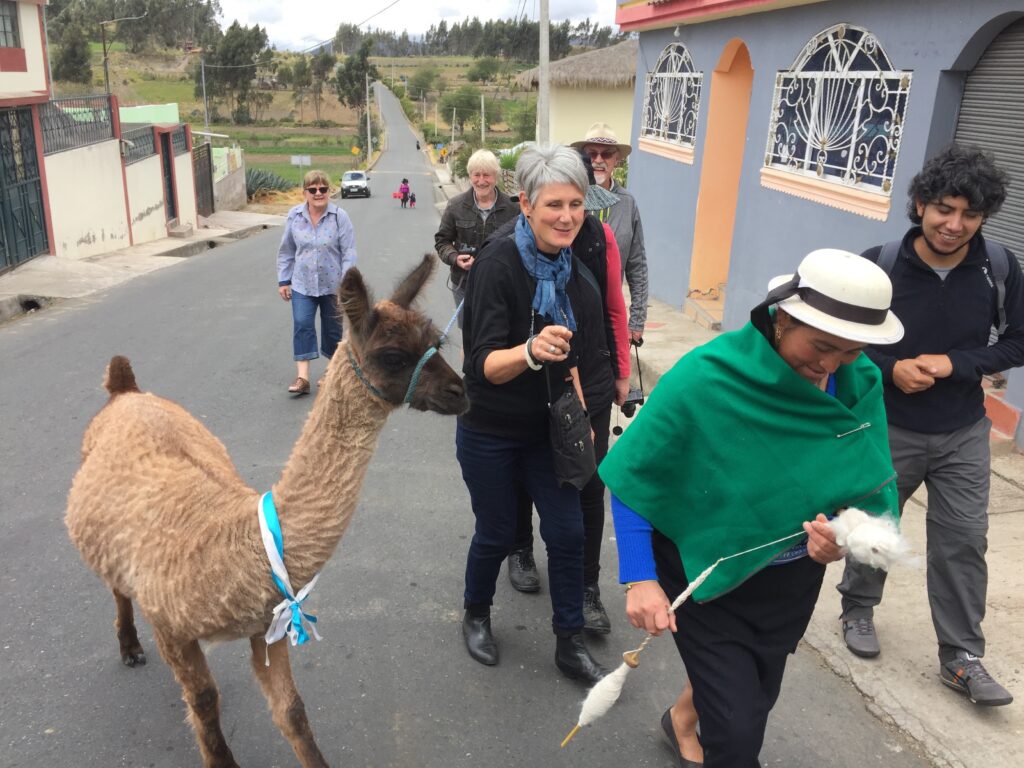 Highlights
Wander through historic Spanish colonial towns and cities and enjoy their grand design as well as more simple structures.
Learn how a 'Panama' hat is made and find out how it got its name.
Find out how Indo-Malay 'ikat' technique has been adopted by traditional Ecuadorian weavers.
Follow the 'Avenue of Volcanoes' and see the world's highest volcano, plus others in the region.
See the interesting ceramics at Pujili village.
Visit wood carving workshops in Quito and see their handmade furniture and religious statuary.
Be overwhelmed by the vast amount of historic buildings found in Quito.
Wind back industrial time at an old textile factory, now a living museum.
Meet various practitioners working with a great variety of fabric, textile, thread and leather.
Enjoy our attractive and well-located accommodation, with breakfasts, and ideal for wandering nearby streets.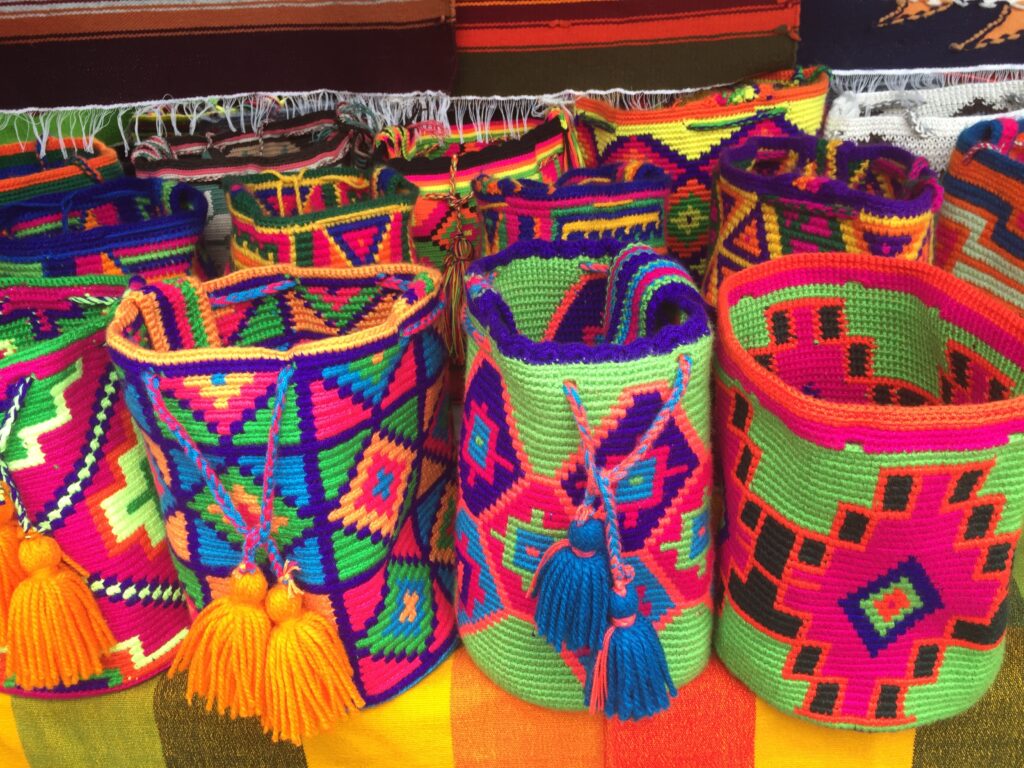 Itinerary
Arrive Guayaquil on Thursday, 28 July, depart Quito on Sunday 08 August. Guests are welcome to arrive earlier and/or depart later as well as continue to join Valerie's Peru program.
Day 01: 28 Jul – Guayaquil
Arrive Guayaquil, settle in and explore the major points of interest.
Day 02-04: 29- 31 Jul – Guayaquil to Cuenca 
Our time in Cuenca tracks Spanish history, 'Panama' hats, indigo and more.
Day 05-08: 01 to 04 Aug – Cuenca to Quito
Our journey via the 'Avenue of Volcanoes' we visit community textile and weaving centres where we see sheep and llama wool utilized, along with workshops. We see great scenery along with ancient Incan and Spanish ruins and structures. Experience village markets, small galleries, many crafts, splendid scenery, colonial towns, local craftspeople and regional cuisine. Enjoy our ikat workshop.
Day 09: 05 Aug – Quito
Our busy time in Quito and surrounds takes us to superb and grand Spanish architecture, markets, fashion designers.
Day 10: 06 Aug: – Quito to Otavalo
At Otavalo we visit villages, artisans, nature attractions, historic technology.
Day 11: 07 Aug: Otavalo Market
An early start to be absorbed by the famous Otavalo Indigenous Market, followed by an afternoon of leather-work and embroidery. Transfer back to Quito for final night.
Day 12: 08 Aug: Depart Ecuador
Transfer to airport to depart. Option is to extend your stay by joining Valerie's Peru program, commencing today.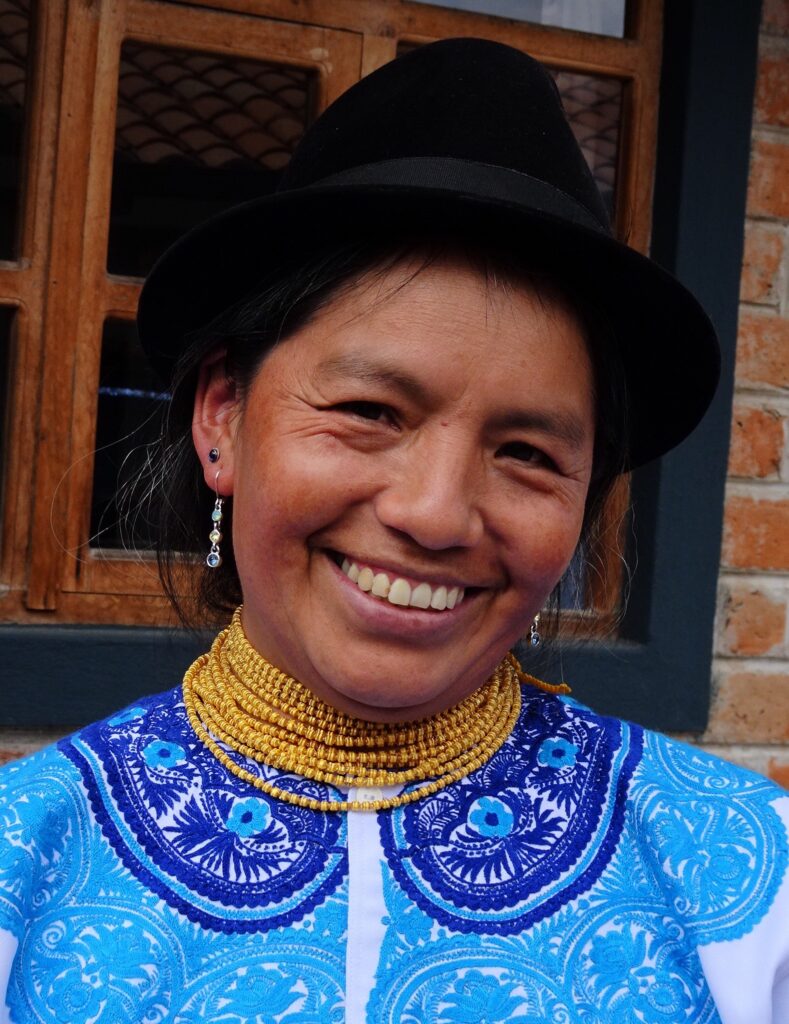 Program includes:
All accommodation on twin share basis in 3 and 4-star hotels (single room on request)
All breakfasts & 2 dinners.
Excursion and activities in itinerary.
Visits to many textile workshops, galleries, craft centres and villages.
Valerie Kirk as Tour Host.
Services of local English speaking Guide.
Aircon vehicle during Road Trip.
Entrance fees to places visited in our program.
Comprehensive info kit.
Items Not Included
Visa fees, international air fares (about $2300), tips (about $120), extra meals, alcohol, phone, shopping, insurance.
Flights: There are many options available. Please contact us for suggestions.
Please note: Trip cost is based on a minimum of ten guests.
Who should join this program?
Anyone interested in landscapes, wildlife, colonial cities and villages, traditional crafts and textiles and local cuisine would enjoy our newest destination.
There are short to medium walks throughout, so a reasonable level of fitness is an advantage. There are a few long travel days so a 'sense of adventure' is required for this aspect of the trip. If you must have 'five-star' attention throughout, then this trip may not be for you. At the other end of the scale, if you insist on 'cheapo-budget' all the way, then another tour program would be more suitable. As this is our first departure we may alter the program as we travel to take advantage of attractions or remove ones we deem less so.
Reservations
Email robert@intenttravel.com.au your intention to join our Ecuador program . You will then receive a reservation form to complete. Your option is held for seven days secured by receipt of a non-refundable deposit of $750 per person. (Refunded should trip not proceed).
Your expert tour host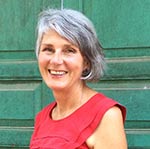 Valerie Kirk, Tapestry Weaver, Senior Lecturer and Head of Textiles, Australian National University will accompany this tour as Guest Lecturer. Her medium is woven tapestry and she is represented in many collections in Australia and overseas. Valerie is recognised internationally for her work as an educator and is devoted to encouraging an appreciation and understanding of textiles through her knowledge, along with direct contact with practitioners. Valerie has a wealth of information and is an accomplished tour manager, with over 20 years of accompanying textile focused tours. You will be in capable and informed hands.